Saved Web Pages Review - Full Text Articles - In 200 Audio Posts: US considering designating Russian mercenary group as a foreign terrorist organization - 10:15 AM 11/20/2023
3 minute read
Published 10:44 AM EST, Wed November 30, 2022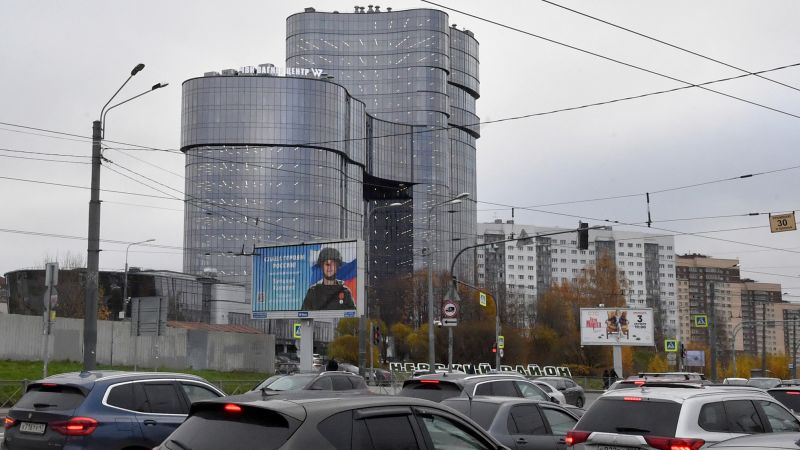 The Biden administration is considering designating the Wagner Group, a Russian private military group, as a foreign terrorist organization amid ongoing efforts to impose costs on Russia for the Ukraine war, a US official said.
No final decision has been made, and it is unclear how far out the administration is from potentially making this designation given the laborious legal process in making this determination, the official explained.
The Wagner Group is a mercenary firm that has been heavily involved in the fighting in Ukraine. The group is often described as President Vladimir Putin's off-the-books troops. It has expanded its footprint globally since its creation in 2014. The group has been accused of war crimes in Africa, Syria and Ukraine.
The group was founded by a Russian oligarch, Yevgeny Prigozhin, which he admitted to earlier this year. Prigozhin is so close to the Kremlin that he is known as Putin's "chef."
The group is already sanctioned by the US, but the Biden administration has its sights on labeling it a terrorist organization amid pressure – both from the Ukrainians and from Congress – to declare Russia as a state sponsor of terror due to the invasion of Ukraine and the constant attacks on the civilian population.
"As Ukraine continues to seize momentum on the battlefield, President Putin has focused his ire and his fire on Ukraine's civilian population," US Secretary of State Antony Blinken said at a news conference Wednesday at the NATO foreign ministers meeting in Bucharest, Romania, noting that Putin's targets are heat, water and electricity. "This brutalization of Ukraine's people is barbaric."
The Biden administration has so far resisted efforts to label Russia as a state sponsor of terror, making the case that it would be a largely symbolic designation that could create obstacles when it comes to getting support into Ukraine, particularly through the Black Sea.
"We have to take into account the consequences, both the intended and the unintended. And that has led us to the approach we've taken here," State Department spokesperson Ned Price said earlier this year.
The conversations regarding Wagner are currently happening within a small group of US officials, and no final decision has been made.
"I have no discussions to confirm on this. The United States will continue to hold those responsible for perpetrating Russia's war against Ukraine to account," a State Department spokesperson said when asked about the discussions.
Earlier this year, Ukraine's Defense Minister Oleksiy Reznikov told CNN that Wagner troops were being deployed in the "most difficult and important missions" in Ukraine, playing a key role in Russian victories in Mariupol and Kherson.
CNN has reported on plummeting morale in the private army as Russia's Ukraine war falters.
Bloomberg first reported that the administration is considering the foreign terrorist organization designation for the Wagner Group.
U.S. Secretary of Defense Lloyd Austin (right) is welcomed by U.S. Ambassador to Ukraine Bridget Brink as he arrives in Kyiv by train on November 20. Defense Secretary Lloyd Austin told President Volodymyr Zelenskiy on November 20 that the United States was in "for the long haul" in its support for Kyiv as Ukraine continues...
Release Date: September 19, 2023 Experts Group to provide advice and perspectives on intelligence and national security efforts to the Office of Intelligence and Analysis and the Office of Counterterrorism Coordinator to support DHS' vital work to protect our country WASHINGTON – Today, U.S. Department of Homeland Security (DHS) Secretary Alejandro...
The Biden administration is considering designating the Wagner Group, a Russian private military group, as a foreign terrorist organization amid ongoing efforts to impose costs on Russia for the Ukraine war, a US official said. No final decision has been made, and it is unclear how far out the administration...
A simple typo means millions of emails meant for the U.S. military are about to fall into the hands of Mali, a pro-Russia state in West Africa, the Financial Times reported on Monday. The so-called "typo leak" is the result of people misspelling the suffix used at the end of all U.S. military email addresses: While the military uses .MIL, the country...
President Biden recently stated he would deny congressional resolutions to designate Russia as a state sponsor of terrorism. The president's response comes amid a broader discussion of how to counter the Kremlin's defiance of international norms and disregard for human rights. While designating Russia as a state sponsor of terrorism is fraught with...
Last week US National Security Council spokesman John Kirby said that the Treasury Department will designate the private military company (PMC) Wagner Group as a transnational criminal organisation (TCO). Western states and institutions have explored a variety of legal mechanisms against Wagner in recent years, including terrorism designations and sanctions for...
The short Thanksgiving week will see the parade of expert witnesses continue as the defense argues that the valuations of assets were within normal boundaries.
I would focus on the core question of the former residents of Nagorno-Karabakh being able to return. We absolutely believe that this is a very important thing, that first of all, they are guaranteed the right to return. And secondly, that the kind of conditions are created, that will provide them with sufficient security, and a sense of safety that...
Kyiv, Ukraine – When Hamas attacked Israel on October 7, the world's attention shifted from the Russian-Ukrainian war to the Middle East conflict. As the new war flared, Ukrainian officials and some observers were quick to accuse Moscow of meddling and even graver allegations – that it was supplying the Palestinian group with weapons.list of 4 itemslist...
Iran's exiled prince Reza Pahlavi has revealed that his father Mohammad-Reza planned to pass the throne to him just before the monarchy fell in the 1979 revolution.In a three-hour interview with entrepreneur and best-selling author Patrick Bet-David -- himself of Iranian Assyrian and Armenian origin -- Pahlavi said when his father, the last shah of...
Finland has accused Russia of handing out bicycles and foot-scooters to migrants to help them cross the border as part of a plan to destabilise Europe.Antti Häkkänen, the Finnish defence minister, also accused the Kremlin of dipping into its "playbook" on hybrid war by encouraging migrants to enter the country without the correct documents."Russia has...
Eager though we all are to learn how the Ukraine war ends for Ukraine, there is another great unanswered question about the invasion: How will the war end for Russia?Will it revert to a quasi-Soviet totalitarian past, this time with a simulacrum of capitalism and an ideology of religious nationalism instead of communism? When Vladimir Putin's death...
British intelligence said Sunday it believes "large elements" of Russia's Wagner mercenary group have likely been reassigned to serve in the Russian National Guard — the Rosgvardiya — and the mercenary group has "resumed active recruitment." An arm of Wagner within the Rosgvardiya is "likely led by Pavel Prigozhin, son of the late Wagner owner Yevgeny...
Link has been copied to clipboard
The Biden administration is pressuring Israel to define its plan for "the day after." This is a bit like demanding America have a plan for postwar Japan weeks after Pearl Harbor. But worse, Washington insists the end goal of Israel's war be the establishment of a Palestinian state. Understanding...
Explained: What could hostage deal involve? There's growing hope dozens of hostages seized from southern Israel by Hamas might soon be released. Last night, US and Israeli officials said a deal was edging closer, while Qatari mediators continue to seek an agreement where up to 50 captives would be handed over, in exchange for a pause in fighting,...
Published On 23 Oct 202323 Oct 2023Russia has criticised the United States president's assertion that Washington must be the driving force in a new "world order", saying such an "American-centric" vision is outdated. Kremlin spokesperson Dmitry Peskov told reporters on Monday that while he agrees on the need for a "new world order", he does not believe...
Israel's military response to Hamas' October 7 attack is causing widespread international outrage, which was crystallized this week in a U.N. Security Council resolution calling for "urgent and extended humanitarian pauses and corridors" in Gaza for "a sufficient number" of days to allow full, rapid, safe and unimpeded access for U.N. agencies and their...
With tensions in the Middle East at boiling point after Hamas triggered a war with Israel, there are growing risks of uncontrolled escalation - plunging the whole region into conflict.The US - sensing the danger, in particular from Iran - is ramping up its military presence around Israel, announcing the deployment of additional air defence systems...
BEIJING, Nov 20 (Reuters) - Arab and Muslim ministers called on Monday for an immediate ceasefire in Gaza, as their delegation visited Beijing on the first leg of a tour to push for an end to hostilities and to allow humanitarian aid into the devastated Palestinian enclave.The delegation, which is set to meet officials representing each of the five...
SaveIsrael's military on Sunday released footage of what it said was Hamas members "forcibly transporting hostages" through al-Shifa Hospital on Oct. 7, citing the video as proof that Hamas used the hospital "on the day of the massacre as terrorist infrastructure." Hamas, in response, did not dispute that its hostages receive medical treatment and said...
Alexis de Tocqueville once described history as "a gallery of pictures in which there are few originals and many copies." Right now, in contested regions across the world, enemies of freedom and decency are adding new works of horror to this already gruesome gallery. Some American leaders have risen to the challenge of the moment. One of them, North...
Calls by states to categorise Israeli action in Gaza as genocide are increasing amid appeals for an immediate action to end the carnage. Critics of the Israeli response to the brutal attack by Hamas, which range from the United Nations to Brazil, South Africa and Colombia, have invoked a range of international crimes – genocide, war crimes and crimes...
With tensions in the Middle East at boiling point after Hamas triggered a war with Israel, there are growing risks of uncontrolled escalation - plunging the whole region into conflict.The US - sensing the danger, in particular from Iran - is ramping up its military presence around Israel, announcing the deployment of additional air defence systems...
UK has sent military assets to the eastern Mediterranean to prevent escalation and provide humanitarian support Visit comes less than a week after UK and US defence secretaries met at NATO HQ in Brussels As the Prime Minister visits Israel, UK is clear that the situation in the Middle East will not distract the world from Ukraine Following Hamas'...
A manhunt has been launched to locate six terror suspects who arrived in Britain on small boats, security sources say (stock image)A manhunt has been launched to locate six terror suspects who arrived in Britain on small boats, security sources say.The illegal migrants - who all have links to Islamist groups - started their journey in Syria and travelled...
Vice Special Report / S1 EP17Vice Special Report / S1 EP5Vice Special Report / S1 EP14Vice Special Report / S1 EP3Vice Special Report / S2 EP16Vice Special Report / S2 EP15Vice Special Report / S2 EP14Vice Special Report / S2 EP13Vice Special Report / S1 EP18Vice Special Report / S1 EP10Vice Special Report / S1 EP17Vice Special Report / S1 EP5Vice Special...
Skip to main content 13.10.2023 09.10.2023 09.10.2023 02.10.2023 The Reshape Europe Conference of the Friedrich Naumann Foundation for Freedom on 10 October 2023 set a milestone in the global dialogue on the question: How can Europe become more resilient and sovereign to stand up to autocratic...
AMSTERDAM/LONDON, Oct 18 (Reuters) - As the Israel-Hamas war rages, regulators and analysts say a wave of online disinformation risks further inflaming passions and escalating the conflict in an electronic fog of war.An explosion at a Gaza hospital that killed hundreds of Palestinians on Tuesday is the latest focus of the surge of activity as supporters...
A recording of a live video feed from a Russian military drone, apparently intercepted by Ukrainian forces and posted online, hints at an increasingly important front in Russia's 22-month wider war on Ukraine—an electronic front.Look past the infantry battles, air raids, and naval maneuvering that dominate the news from the 600-mile front in Ukraine:...
(November 19, 2023 / JNS) The Oct. 7 Hamas massacre will never be forgotten. It has been forever seared on to the heart and soul of every Jew. It is a source of anguish and a guide for generations to come. There has been little comment, however, on the fact that, just like the Yom Kippur War in 1973 had heavy Russian involvement, so did the slaughter...
BAKU A week after Azerbaijan seized Nagorno-Karabakh, residents in Armenia exclaves worry whether their hometowns will face a similar fate. Armenia and Azerbaijan have fought two wars over Nagorno-Karabakh, in the nineties and in 2020. This year, after Azerbaijan's lightning offensive, Baku took total control of the region that lies...
Donald Trump bizarrely bragged at a rally on Saturday that he has the "great honor" of having a disease named after him. Speaking to a crowd of supporters in Iowa, the former president said: "Every sane person, without what they call Trump derangement syndrome—do you know what that is? It's a great honor, I had a disease named after me: Trump derangement...
SaveIsrael and Hamas are close to agreement on a U.S.-brokered deal that would free dozens of women and children held hostage in Gaza in exchange for a five-day pause in fighting, say people familiar with the emerging terms.The release, which could begin within the next several days — barring last-minute hitches — could lead to the first sustained pause...
Israel, the United States and Hamas have reached a tentative agreement to free dozens of women and children held hostage in Gaza in exchange for a five-day pause in fighting, the Washington Post reported on Saturday, citing people familiar with the deal. As part of the detailed, six-page agreement, all parties would freeze combat operations for at...
15 Russian ships destroyed in Black Sea, Ukrainian military claims Ukraine's military claimed it had destroyed a total of 15 Russian naval vessels in the Black Sea since the start of the war.Another 12 had been damaged, the military said.Dmytro Pletenchuk, a navy spokesperson, described Ukraine as the "driver of a new type of naval warfare" having...
Russian soldiers have been stripped nearly naked and placed in a pit for refusing to fight. (Image: @wartranslated/X)Russian soldiers have been pictured stripped nearly naked and forced into a pit near the frontlines in Ukraine exposing chaos among Vladimir Putin's forces.WarTranslated, an independent media project that translates content about the...
The Russian Federation is unlikely to disintegrate the way the USSR did, Andrey Yakovlev says. The non-Russian autonomies simply don't occupy the position now that the union republics did in 1991, and the Russian regions are certain that they would lose more than gain if they sought to go their own way. But, the economist formerly at HSE but now at...
В гостях «Честного слова» — политолог Станислав Белковский. Обсуждаем, почему война может закончиться только со смертью Путина и какую роль для него играет Николай Патрушев. Гость: Станислав Белковский https://www.facebook.com/joshua.raynolds/ Ведущий: Александр Макашенец https://instagram.com/makashenets Важные ссылки: ❗️ Сайт кампании...
Wilhelm Richard Wagner (22 May 1813 – 13 February 1883) was a German composer, theatre director, polemicist, and conductor who is chiefly known for his operas (or, as some of his later works were later known, "music dramas"). Unlike most opera composers, Wagner wrote both the libretto and the music for each of his stage works. Initially establishing...
The "Ride of the Valkyries" refers to the beginning of act 3 of Die Walküre, the second of the four operas constituting Richard Wagner's Der Ring des Nibelungen. ▶️ More from Richard Wagner: https://youtube.com/playlist?list=PLO09Th4dLYVlOoVSMlOn5iuiNYXvL2ubp 🔔 Subscribe to The Wicked North for the very best in classical music: https://www.youtube.com/c/TheWickedNorth...
Turkish President Recep Tayyip Erdogan is in Berlin for talks with Chancellor Olaf Scholz. Subscribe: https://www.youtube.com/user/deutschewelleenglish?sub_confirmation=1 For more news go to: http://www.dw.com/en/ Follow DW on social media: ►Facebook: https://www.facebook.com/deutschewellenews/ ►Twitter: https://twitter.com/dwnews ►Instagram:...
Sen. Menendez Applauds President Biden's Historic Nomination of Adeel Mangi to Serve on the U.S. Court of Appeals for the Third Circuit
Officials in the mostly Muslim North Caucasus region of Daghestan have filed about 340 cases in connection with a violent mob attack on the airport in the regional capital, Makhachkala, on the evening of October 29. More than 20 people, including several law-enforcement officers, were injured in the rampage, which caused damage estimated at hundreds...
The man who led a rebellion against President Vladimir Putin built a multinational commercial enterprise that helped fund his military operations.
Subscribers only Surveillance & Interception 04.10.2023 Subscribers only Government Intelligence 06.06.2023 Subscribers only Government Intelligence 21.09.2022 Subscribers only Government Intelligence 23.05.2022
On Aug. 22, 2023, unidentified armed assailants fired on a Minusma convoy en route from Gao to Ménaka, in eastern Mali, in the same week that another convoy was attacked, leaving four peacekeepers from Burkina Faso wounded. That convoy was heading from a camp in the north, called Ber, and heading to Timbuktu amid the UN peacekeeping mission's overall...
On October 12-14, 2023, Facebook users shared a video of armed fighters (1,2,3), which, according to the description, depicts the first moments of the Hamas attack on Israel, and in the video, the Russian speech can be heard, namely, the word "Прикрывайте" (cover-up). The video was actively distributed by Russian-language Facebook users (1,2,3,4)....
Kyiv, Ukraine – When Hamas attacked Israel on October 7, the world's attention shifted from the Russian-Ukrainian war to the Middle East conflict. As the new war flared, Ukrainian officials and some observers were quick to accuse Moscow of meddling and even graver allegations – that it was supplying the Palestinian group with weapons.list of 4 itemslist...
Introduction Hamas's surprise October 7, 2023 terror attack, in which over 1,400 were brutally murdered and another 241 (at last count) taken hostage, will go down in infamy. As Hamas leader abroad Khaled Mashal boasted on October 26 on Egypt's Sada Elbalad TV, the Russians told him that this attack would be taught in military academies.[1] In the...
At least 16 Russian citizens died as a result of Hamas's attack on Israel on 7 October, but Moscow did not condemn Hamas directly. And while the Kremlin labels some of its own—peaceful—political opponents as terrorists, it did not give this designation to Hamas. Instead, President Vladimir Putin blamed US policies for the current Middle East crisis....
Thousands called on Benjamin Netanyahu to resign during a demonstration in Tel Aviv (Image: Ohad Zwigenberg/AP) THOUSANDS of protesters gathered in Tel Aviv calling on Israel's Prime Minister Benjamin Netanyahu to resign. Footage on social media showed people, including the friends and families of Hamas hostages, gathered...
Earlier this week, South Korean officials and independent expert analysts said the militant group Hamas likely used North Korean weaponry in its surprise attack on Israel on Oct. 7, based on images and video evidence. Among the North Korean-made arms found in the attack were F-7 rocket-propelled grenades (RPG) and 122mm artillery shells. A video examined...
🎵 Buy the MP3 album on the Official Halidon Music Store: https://bit.ly/3N1cvqW 🎧 Listen to our playlist on Spotify: http://bit.ly/CinematicMusicPlaylist 💿 Order "Film Music" (Vinyl) on Amazon✨: https://lnk.to/VinylFilmMusic 🛍️Visit the Halidon shop on Amazon : https://lnk.to/StoreHalidon These recordings are available for sync licesing in web...
#Kanal13 #likekanal13 #subscribekanal13 #warinukraine https://www.youtube.com/user/kanal13az?sub_confirmation=1 - SUBSCRIBE TO US! Andriy Yusov, a representative of the Defense Intelligence of Ukraine, in an interview with RBC-Ukraine, revealed that Russia is using terrorist attacks on Israel as a component of its war against Ukraine. In particular,...
The Israel-Hamas conflict is set to take a dangerous turn with Russia's paramilitary, Wagner Group, announcing its interest in providing high-tech air defence support to Hezbollah, according to a new report. A man mounts a flag of Wagner group on top of an old tank exhibited at the Leninist Komsomol park in Donetsk, Russian-controlled Ukraine,...
As Ukrainian cruise missiles and sea drones pound Crimea day after day, Russia quietly resorts to plan B: building a 250-mile railroad to supply food, fuel and ammunition to its troops entrenched in southern Ukraine.Over the last decade, Russia turned Crimea into a massive aircraft carrier in the Black Sea. Two years ago, Russia used the peninsula...
Russia's Wagner is on the verge of getting involved in the Israel-Hamas war in Gaza. The Wall Street Journal reported that the U.S. officials are worried that Wagner might send the SA-22 (Pantsir-S1) air defence system to help Hezbollah in its fight against Israel from Lebanon. The report added that no such transfer has happened till now and American...
Russia's Wagner Group Plans to Send Air Defenses to Hezbollah, U.S. Says
Russia's mercenary group is preparing to deliver an advanced air defense missile system to Hezbollah as the Lebanese militia group clashes with Israel, according to US intelligence. American officials are currently monitoring discussions between the Wagner mercenary group and Lebanon's Hamas-supporting militia...
Information Cutoff: 2:00 pm ESTContributor: James CaryThe Iran Update provides insights into Iranian and Iranian-sponsored activities abroad that undermine regional stability and threaten US forces and interests. It also covers events and trends that affect the stability and decision-making of the Iranian regime. The Critical Threats Project (CTP)...
Чем чреваты разногласия в США и Европе по поводу помощи Украине? Долго ли продолжит укрепляться рубль? Что в новом пакете санкций от ЕС? Почему машины в России дорожают и стареют? Это новый выпуск «Наличное мнение с Денисом Елаховским». 00:00 Интро 00:33 Шатдаун и помощь Украине 04:13 Что будет с рублём? 06:50 Россия рекордно зарабатывает на продаже...
FILE PHOTO Hungarian police using pepper spray on migrants at the border (Image: Getty )Europe's borders have started to look like a warzone with heavily armed guards facing-off against Taliban-backed people smuggling gangs carrying assault rifles.Recent footage taken on the Serbia-Hungary border, an area dubbed a no-man's land, showed a man carrying...
Pacific Rim leaders have shown divisions over the wars in Ukraine and Gaza after a two-day summit of the Apec forum, while pledging support for reform of the World Trade Organization.The 21 economies that make up the Asia-Pacific Economic Cooperation forum – among them Russia, China, the US and Australia – did not mention either conflict in their final...
TALLINN, Estonia (AP) — The Russian Justice Ministry on Friday said it has filed a lawsuit with the nation's Supreme Court to outlaw the LGBTQ+ "international public movement" as extremist, the latest crippling blow against the already beleaguered LGBTQ+ community in the increasingly conservative country. The ministry said in an online statement announcing...
Sometime toward the end of 1998, arch-terrorist Yahya Sinwar, then a prisoner in an Israeli prison, came up with a novel idea. With two cellmates, Hamas terrorists, Rouhi Moushtahaand Tawfik Abu Naim, Sinwar planned to kidnap an Israeli soldier from the Gaza Strip - then still under full IDF control and, through a tunnel, smuggle him into Egypt.<<...
Egypt has appeared hesitant to help relieve the humanitarian distress affecting Palestinian civilians. Why?
The Republican chairman of the House Ethics Committee filed a motion Friday to expel New York Rep. George Santos following the committee's damning report. CBS News congressional correspondent Scott MacFarlane reports. #news #politics #georgesantos CBS News Streaming Network is the premier 24/7 anchored streaming news service from CBS News and...
TEL AVIV, Israel (AP) — Israel has quietly helped fuel Azerbaijan's campaign to recapture Nagorno-Karabakh, supplying powerful weapons to Azerbaijan ahead of its lightening offensive last month that brought the ethnic Armenian enclave back under its control, officials and experts say. Oct 5, 2023 Last edited9:54 AM · Nov 17, 2023
AP — Israel has quietly helped fuel Azerbaijan's campaign to recapture Nagorno-Karabakh, supplying powerful weapons to Azerbaijan ahead of its lightning offensive last month that brought the ethnic Armenian enclave back under its control, officials and experts say. Just weeks before Azerbaijan launched its 24-hour assault on September 19, Azerbaijani...
Prime Minister Nikol Pashinyan and French President Emmanuel Macron met at the Élysée Palace today. The President of France first expressed his condolences to the Prime Minister on the death of Christian Ter-Stepanyan, Permanent Representative of the Republic of Armenia to UNESCO, Personal Representative of the Prime Minister of Armenia to the...
Amman, Jordan – The Israeli army released footage on October 22 of its Maglan commando unit deploying a new precision-guided 120mm mortar bomb called the Iron Sting, against Hamas in Gaza. The bomb's Haifa-based manufacturer, Elbit Systems, has been advertising its qualities on the public relations page of its website since March 2021, when it was...
Editor's Note: A version of this article first appeared in the "Reliable Sources" newsletter. Sign up for the daily digest chronicling the evolving media landscape here. When was the last time you saw a live television news report from Ukraine? It's likely been a while. The raging war...
🎵 Buy the MP3 album on the Official Halidon Music Store: https://bit.ly/3SBGkV6 🎧 Listen to our playlist on Spotify: http://bit.ly/TheBestOfClassicalMusic 💿 Order "Violin: Classical Music Masterpieces" (Vinyl) on Amazon: https://lnk.to/ViolinMasterpiecesVinyl ✨ These recordings are available for sync licensing in web video productions, corporate...
The International Center of Justice for Palestinians says International Criminal Court case will focus on role of politicians in 'aiding and abetting Israel's perpetration of war crimes' The organization also accuses the Canadian officials of turning a 'blind eye' to 'ethnic cleansing through a campaign of forced displacement of 1.2 million people'...
On the same day the federal authorities raided the home of Mayor Eric Adams's chief fund-raiser, they also searched the residences of two people with ties to Turkey.
Michael Novakhov (Mike Nova) 11/16/2023 10:36:00 AM
Featured What will the future hold for this decentralized but tight-knit community? By Shuli Taubes A fiddler on the roof. Sounds crazy, no? But here, in our little village of Anatevka, you might say every one of us is a fiddler on the roof, trying to scratch out a pleasant, simple tune without breaking his neck. It isn't easy....
President Joe Biden's military show of force — the armada parked off the Israeli coast in the East Mediterranean Sea — is seen by Iran and its proxies as no more than a static display. Its deterrence value, the supposed muscle behind Biden's "don't" warnings, has been largely ignored. Hezbollah militants continue to fire rockets and anti-tank missiles...
In a significant development in the ongoing conflict between Ukraine and Russia, reports suggest that the son of Yevgeny Prigozhin, a Russian businessman with close ties to the Kremlin, has taken command of the Wagner Group. This information comes from a renowned Wagner-affiliated Telegram channel, as cited by the Institute for the Study of War (ISW),...
China's absorption of Taiwan is 'unstoppable', Xi tells BidenNovember 16 2023, 8.05amKeiran Southern, San Francisco | Richard Lloyd Parry, Asia Editor | Alistair Dawber, Washington
Israel should not harm it's relations with Russia, due to the long story of cooperation and Moscow's role in the Middle EastAmid all the tensions on the international arena and difficulties, that both Russia and Israel are facing in their relations today, Moscow's still playing a major role in the Middle East. So Israel should balance and keep good...
A synagogue in Yerevan, Armenia was set on fire on November 15, according to Azerbaijani Ambassador to Germany Nasimi Aghayev who shared footage of the attack.A synagogue in Yerevan, Armenia, which is the country's only synagogue, was burned last night. Alarming rise in #antisemitism in Armenia makes its small Jewish community quite vulnerable. According...
Published: 01:08 GMT, 3 November 2023 | Updated: 12:03 GMT, 3 November 2023 Russia's paramilitary Wagner Group plans to provide advanced anti-aircraft defense systems to Hezbollah for deployment near Israel's northern border, according to a new report.Wagner wants to send the Iran-backed Hezbollah terror group the Russian SA-22 Greyhound system,...
The most obvious way in which the conflict in Israel and Gaza is impacting the war in Ukraine is by diverting world attention. But it would be unwise to jump to the conclusion that countries like the US will have to choose between sending weapons to either Ukraine or Israel. Lloyd Austin, the US defence secretary, dismissed these concerns last week,...
Christopher A. Wray, the F.B.I. director, made the disclosure in testifying about threats to the United States after Hamas's surprise attack on southern Israel last month.
2023-10-28 13:10 On October 27, 2023 local time, U.S. President Joe Biden met with visiting Member of the Political Bureau of the CPC Central Committee and Foreign Minister Wang Yi in the White House.Wang Yi first conveyed President Xi Jinping's greetings to President Biden, saying that the purpose of this visit is to communicate with the U.S. side...
The relationship between the United States and China is at a 40-year low, and American officials have tried to minimize expectations about what concrete commitments might emerge from the leaders' first meeting in a year.
Skip to content Christopher Wray, Director of the Federal Bureau of Investigation, center, Homeland Security Secretary Alejandro Mayorkas, left, and Director of the National Counterterrorism Center Christine Abizaid, right, speak during a House Homeland Security Committee hearing on "Worldwide Threats to the Homeland", at the Capitol...
The circle of global power players who continued to meet with Jeffrey Epstein after his first sex conviction was far wider than previously revealed, according to an extensive report fromThe Wall Street Journal published on Sunday.Using source documents including Epstein's schedules, the paper identified meetings between the disgraced financier and figures...
Ukrainian President Volodymyr Zelensky said on Tuesday that Russia was increasing its attacks across the front line, as Kyiv called for the West to boost weapons supplies ahead of winter. #Ukraine #Russia #war 🔔 Subscribe to France 24 now: https://f24.my/YTen 🔴 LIVE - Watch FRANCE 24 English 24/7 here: https://f24.my/YTliveEN 🌍 Read the latest...
Израильские войска обнаружили оружие и инфраструктуру ХАМАС (признана США террористической организацией) в ходе рейда в ночь на среду в крупнейшем больничном комплексе «Аль-Шифа» в секторе Газа. Об этом в среду сообщил высокопоставленный представитель военного ведомства Израиля, добавив, что доказательства будут представлены позже. Он сообщил журналистам,...
An ex-advisor to Ukrainian President Volodymyr Zelensky has slammed Ukraine's effort to 'dehumanize' Russians. Aleksey Arestovich called Ukraine's 'dehumanizing' effort a mistake in the war. Arestovich stated that the strategy has given Russian troops more reasons to fight. The comments come as Russian troops continue to dominate the Ukrainian Army....
Over the course of one week last week, President Volodymyr Zelensky had to deal with various allegations and comments surrounding him and his officials, with some scandalous accusations in TIME magazine serving as the cherry on top. TIME magazine article's allegations In a TIME publication that sparked much controversy in Ukraine and abroad, Zelensky...
Mr Arestovych is one of the most public Ukrainian faces of the war, using his YouTube channel to hold daily discussions on issues related to the conflict. The channel has more than 1.6 million subscribers, and his videos often have more than 200,000 views. Unusually for Ukrainian officials, he speaks in Russian rather than Ukrainian.
The ex-official was referring to recent remarks by Ukraine's army commander-in-chief, Valery Zaluzhny, who claimed that the hostilities with Russia had reached a "stalemate." This view sent ripples through Western media and even reportedly caused "panic" among some of Kiev's backers. "There is a conflict between the president and...
Martial law in Ukraine provides for restrictions on the departure of conscripted men of conscription age. Find out more about who still has the right to leave the country and the main changes for men leaving in 2023 More useful news in our Telegram channel FOLLOW During the martial law in Ukraine, men aged 18 to 60 may be mobilized...
Wednesday, November 15th is Z-Day for the War in Ukraine. CIA Chief William Burns will arrive in Kiev for urgent, secret meetings with Zelensky. It is worth asking: How come Burns is on an urgent mission to Ukraine? The answer to the question is that Ukraine is imploding. The crumbling of the Zelensky regime is unsurprising: Ukraine has been sustaining...
In a joint effort to address the ongoing conflict in the war-torn Gaza Strip, Egyptian President Abdel-Fattah al-Sisi and Russian President Vladimir Putin held a phone conversation on Tuesday. The leaders agreed to intensify international efforts towards an immediate ceasefire and discussed the latest developments in the Palestinian coastal enclave,...
President of Azerbaijan Ilham Aliyev with Israeli Ambassador George Deek, December 2019 (Wikimedia Commons) When I first heard that Israel's Ambassador to Azerbaijan, George Deek, is an Armenian, I thought it couldn't be true. However, I was astonished to find out that it is. As Mark Twain said: "Truth is stranger than fiction!" Long before he...
Hackers respaldados por el gobierno de la India intentaron instalar el programa espía Pegasus, de la firma israelí NSO Group, en el iPhone de un periodista indio que trabajaba para el Organized Crime and Corruption Reporting Project (OCCRP) en agosto de este año, según declaraciones del cofundador de la organización, retomadas por la agencia de noticias...
Armenia is ready to continue negotiations in this format to conclude a peace agreement with Azerbaijan and, if possible, sign a peace agreement by the end of the year, the Secretary of the Security Council of Armenia, Armen Grigoryan, said in an interview with the local press, Report informs. He noted that Armenia wants negotiations in which agreements...
YEREVAN—Atop a high hill, just west of Yerevan's old city, stands a stark, deeply affecting monument marking the Ottoman Empire's 1915 genocide of 1.5 million Armenians. The world Armenia inhabits is once again taking on a tragic color: Last month, to what might charitably described as a muted international response, Azerbaijan, Turkey's closest ally...
A bizarre scandal involving potentially illegal campaign contributions from Turkish citizens has New York City Mayor Eric Adams playing defense after the FBI seized some of his electronic devices."This is an ongoing review," Adams said at a Tuesday morning press conference. "And as a former member of law enforcement, it is always my view, always my...
I'm Steve Gutterman, the editor of RFE/RL's Russia/Ukraine/Belarus Desk. Welcome to The Week In Russia, in which I dissect the key developments in Russian politics and society over the previous week and look at what's ahead. To receive The Week In Russia newsletter in your inbox, click here. A trip to China, an eye on the Middle East -- and for...
In the month of October, Russian President Vladimir Putin, his Foreign Affairs Minister Sergey Lavrov as well as Defense Minister Sergey Shoigu, State Duma Chairman Vyacheslav Volodin and others began talking broadly about peace in the Middle-East. There were strong calls for the United Nations to take urgent steps to halt Israel's military atrocities...
Wagner Group founder Yevgeny Prigozhin has "absurdly" claimed that over 10 million American citizens have applied to join his Russian mercenary organization, according to U.S. think tank Institute of the Study of War (ISW).Prigozhin said on Thursday that the Wagner Group had "completely stopped" its practice of recruiting prisoners to fight in Ukraine,...
The Wagner Group, Russia's notorious private military company accused of war crimes and identified as a "significant transnational criminal organization" by the U.S. Treasury Department, may be trying to recruit American veterans as mercenaries. A video being shared on social media is purportedly a Wagner recruiting commercial that targets U.S. military...
Sélectionné pour vous : Belgique : Partouzes et jeux sexuels, un scandale éclabousse à la plus grande prison du pays Les prochaines élections sont actuellement le principal sujet de discussion dans le pays. Grâce à des collègues du Consortium international des journalistes d'investigation (ICIJ), on a appris l'enregistrement exclusif d'une rencontre...
They got him in the end." This was a common reaction to the news about the private jet crash that, at least according to Russian officials, killed the warlord Yevgeny Prigozhin, head of the infamous Wagner mercenary army. There are many theories about what actually happened, including the lingering question, "Who Killed Yevgeny Prigozhin?" The fundamental...
ANALYSIS Chinese President Xi Jinping meets President Biden this week on the sidelines of an international economic summit in San Francisco seeking concessions from the United States on ideology, trade and exports, according to a review of Chinese state media ahead of the meeting. A common theme of Chinese official accounts in the days leading up to...
Last week, the Financial Times quoted a "senior European Union official" calling the escalating war in the Middle East "a gift from heaven" for Vladimir Putin. He suggested that Western governments' support for Israel is turning Global South countries into Moscow's allies. As an unnamed Arab official quoted in the same FT piece put it, "If you describe...
Stay informed with free updatesSimply sign up to the Russian politics myFT Digest -- delivered directly to your inbox.The writer is senior fellow at the Carnegie Russia Eurasia Center, Berlin and visiting fellow at the European University Institute, FlorenceOn October 29, several thousand angry men stormed the airport at Makhachkala, capital of Dagestan...
In late September, Serbia deployed advanced weapons to its border with Kosovo, in what amounted to one of the largest Serbian military buildups since the end of the Kosovo war nearly a quarter century ago. In the United States, a spokesman for the National Security Council called it "an unprecedented staging of advanced Serbian artillery, tanks, and...
Earlier this year, analysts at the Stockholm International Peace Research Institute warned that the world was "drifting into one of the most dangerous periods in human history".Since then, a conflict in the Middle East that threatens to spill over into a regional war has only added to geopolitical tensions – and the risk of all-out war between emerging...
When Hamas attacked Israel on October 7, Russian nationalists and so-called "Z" propaganda voices rejoiced. Propagandist Margarita Simonyan snidely commented on many "pacifist" expatriates who had left Russia for Israel after the beginning of the war with Ukraine and might now want to return to Russia.The Wagner-affiliated Telegram channel retranslated...
The war in the Middle East that inevitably followed Hamas's horrific attack on Israel has highlighted the true colors of Vladimir Putin, the Russian president. His policy of making Russia's war against Ukraine central to his political system pushed him into breaking his ties with Israel and into supporting anti-Israeli forces in the Middle East.For...
All times eastern Making Money with Charles Payne FOX News Radio Live Channel Coverage WATCH LIVE: Pro-Palestine protesters march outside Biden's Delaware home
The Israeli military has released video of fighting in the Gaza Strip, showing troops operating in an area between Beit Hanoun and Jabalia. Videos Israeli operations in Gaza Strip ramp up The Israeli military has released video of fighting in the Gaza Strip, showing troops operating in an area between Beit Hanoun and Jabalia. ...
The Media Line Staff 11/13/2023 Moscow and Washington criticize each other's military operations in Syria As the world's attention is fixed on Gaza, Russia and the United States have escalated their military activities in Syria, conducting separate airstrikes against different targets. Russian airstrikes in Idlib province reportedly...
Five American troops were killed after a United States military plane crashed over the Mediterranean Sea. The crash occurred during a "routine air refueling mission as part of a military training", said the United States European Command in a statement. While there is no indication of any foul play, the U.S. military has come under increased attacks...
The attacks come as Israel's military consolidates control of Gaza City, Hamas's base. The fighting has worsened the humanitarian crisis in the enclave.
Drone and rocket attacks on U.S. forces have continued in recent weeks, prompting a second round of retaliatory airstrikes in eastern Syria.
Published On 13 Nov 202313 Nov 2023Russian air strikes have targeted Syrian rebels and the United States has bombed Iran-backed groups in Syria, with the Russian military criticising Washington for failing to coordinate its operations. Russian air strikes in Syria's Idlib province have reportedly killed 34 rebel fighters and injured 60, as hostilities...
WASHINGTON (AP) — The U.S. carried out an airstrike on a weapons warehouse in eastern Syria used by Iranian-backed militias, in retaliation for what has been a growing number of attacks on bases housing U.S. troops in the region for the past several weeks, the Pentagon said.In Wednesday's strike, two U.S. F-15 fighter jets dropped multiple bombs on...
President Joe Biden is struggling to both "speak softly and carry a big stick," as attacks on American forces in the Middle East mount and Israeli troops press their devastating assault on the Gaza Strip despite growing concern in the U.S.Deputy Pentagon Press Secretary Sabrina Singh told reporters on Thursday that there have now been at least 46 separate...
The monitoring of foreign powers' military points and bases on the Syrian map is a key indicator in assessing the extent of these powers' field and military influence, which is directly related to these countries' and external actors' ability to influence political decisions and the public scene in Syria. The number of foreign powers' military...
The US carried out another set of strikes against targets affiliated with Iran's Islamic Revolutionary Guard Corps in eastern Syria, according to Defense Secretary Lloyd Austin, following continued attacks on US forces in the region. Austin said the strikes were directed by President Joe Biden and...
Sat., Oct. 21: Aid workers gather around trucks carrying humanitarian aid that entered the Gaza Strip from Egypt through the Rafah border crossing. Updated October 21, 2023 at 12:30 PM ET On Saturday morning, twenty trucks of humanitarian aid crossed into Gaza from Egypt through the Rafah border. The trucks were carrying medicine,...
Updated with reporting by RBC. Russian President Vladimir Putin will hold his end-of-year press conference and televised call-in show in a "combined format" this year, the Kremlin announced Thursday. Set-piece political events involving Putin have been delayed or scrapped altogether in the tumultuous months following Moscow's February 2022 invasion...
On 26 October, a Hamas delegation headed by politburo member Mousa Abu Marzouk turned up in Moscow for talks that – according to Russian readouts – focused on the safety of Russian citizens in Gaza and the release of hostages. The Russians kept tight-lipped about the real purpose of the visit. The simultaneous presence in Moscow of Iran's deputy foreign...
As Russia's invasion of Ukraine nears the end of its second year, a conclusion to the conflict seems as distant as ever. Kyiv's counteroffensive has failed to decisively break through the Russian Army's prepared defenses in Ukraine's southern and eastern regions. Meanwhile, the Kremlin is digging in for a long war and assumes it can outlast the West's...
1699348534The Israel Defence Forces says it has secured a "Hamas military stronghold" inside the Gaza Strip.It said in a statement the stronghold belonged to "the Hamas terrorist organisation in the northern Gaza Strip"."Furthermore, IDF troops located a number of Hamas terrorists who barricaded themselves in a building adjacent to the al Quds Hospital,...
Russian President Vladimir Putin. Photo: Photographer RM/Shutterstock Russia is at it again. Using social media and other digital platforms to push disinformation, this time about the situation in Israel and Gaza, said Microsoft President Brad Smith at an international peace forum in Paris on Saturday. Smith said tech giants like Microsoft...
Explosion kills hundreds of Palestinian patients at Gaza hospitalThe Health Ministry run by Hamas blamed Israel for the hospital blast in Gaza that killed hundreds. Israel denied any involvement.An Oct. 14 Facebook post (direct link, archive link) includes a photo of deceased children it claims was taken amid the Israel-Hamas war. "CHILD GENOCIDE IN...
File photo: Chechen leader Ramzan Kadyrov attends a meeting with Russian President Vladimir Putin in Moscow, Russia, September 28, 2023. Sputnik/Mikhail Metzel/Pool via REUTERS/File photo Acquire Licensing RightsNov 6 (Reuters) - A large group of Russia's former Wagner mercenaries has started training with special forces from the southern Russian region...
Over the course of my military career in special operations, I conducted hundreds of tactical, operational and strategic missions based on intelligence. Never once did I expect intelligence to be perfect. In fact, it rarely was. I based my plan on the best intelligence available, but I also thought of every possible scenario that I could in order...
THE VICIOUS success of Hamas's attack on Israel, without their plans being unveiled, is matched by the astounding failure of Israeli intelligence at every level. The assault by land, sea and air on October 7th left at least 800 dead in Israel, and must have required months of planning. Officials are in shock that such a significant military buildup...
13:17Врач объяснила, как справиться с болью при невралгии тройничного нерва12:58МЧС: Россия приступила к эвакуации граждан из сектора Газа12:43В Петербурге продолжают жестко избавляться от электросамокатов12:31Финны купили грозную защиту у Израиля11:52Эндокринолог рассказала, что такое демпинг-синдром11:50Счастливые инфляцию не наблюдают11:26На УАЗе...
#039atrocious039 #killing #Jason #Corbett #beauty #queen #FBI #agent #bludgeoned #Irish #fatheroftwo #death #baseball #bat #areresentenced #years #prison In August 2015, businessman Jason Corbett was found bludgeoned to death in the bedroom of his North Carolina home. The father-of-two – who was 39 and originally from Ireland – had been beaten...
Updated [hour]:[minute] [AMPM] [timezone], [monthFull] [day], [year] NEW YORK (AP) — FBI agents quietly seized phones and an iPad from New York City Mayor Eric Adams early this week as part of an investigation into political fundraising...
DW News published this video item, entitled "Leaders at Islamic-Arab summit demand end to Israeli military operations in Gaza | DW News" – below is their description.World leaders at the Islamic-Arab summit have called for an immediate end to Israeli military operations in Gaza, rejecting Israel's justification of its actions as self-defense.The...
AMSTERDAM/LONDON, Oct 18 (Reuters) - As the Israel-Hamas war rages, regulators and analysts say a wave of online disinformation risks further inflaming passions and escalating the conflict in an electronic fog of war.An explosion at a Gaza hospital that killed hundreds of Palestinians on Tuesday is the latest focus of the surge of activity as supporters...
Jerusalem Center Fellow Izabella Tabarovsky told the JCPA War Room Zoom briefing on October 30, 2023: For Russian Premier Vladimir Putin, the Hamas-Israel conflict is an opportunity to distract public attention from his war in Ukraine, ongoing for over a year and a half. Putin's hypocritical condemnation of Gaza's destruction, while he has...
Hamas's surprise attack on Israel, on the 50th anniversary of the Yom Kippur war, will be remembered as an intelligence failure for the ages.In the space of several hours, dozens of Gaza militants broke through the border fence into southern Israel, surprising local military positions.Gunmen kidnapped and murdered Israelis in the southern border communities,...
There was only one real winner last Saturday when war broke out in Israel — Russian President Vladimir Putin. Putin's enabling of his "Arsenals of Evil" ally, Iran, resulted in the opening of a new front in Gaza in his war against the West. Mitt Romney got it right in 2012 when he told CNN's Wolf Blitzer that "Russia [is] without question, our...
Israel's war against Hamas has entered its twenty-seventh day, three weeks after Hamas killed at least 1,300 Israelis and wounded more than 3,300 in a merciless assault. In the Gaza Strip, the Hamas-controlled health ministry reports that more than 9,000 Palestinians have been killed. Hamas and Palestinian Islamic Jihad are holding hostage more than...
Some of the fighters of the Wagner private military company were preparing Hamas for an attack on Israel, the National Resistance Center (NRC) reported. Russians who left Belarus for African countries were involved in training and sharing combat experience with terrorists. "The crucial areas of training of Hamas militants were assault exercises and...
SaveWhen Russian President Vladimir Putin finally called Israeli Prime Minister Benjamin Netanyahu on Monday, he said Russia was trying "to help normalize the situation" in the Gaza Strip, according to the Kremlin. But Moscow has little interest in helping Israel. Russia is on the side of Hamas and its patron, Iran — in part to undermine the United...
The former Ukrainian president Petro Poroshenko told Euractiv he was "absolutely sure" that instructors from the Russian mercenary group Wagner were transferred from Syria to Gaza to help prepare the terrorist attacks on Israel on 7 October. Poroshenko, president from 2014 to 2019 and now heads the European Solidarity party, was visiting Brussels ahead...
This blog is closed, thanks for joining us. These were the updates on Azerbaijan-Armenia tensions on Tuesday, September 19:
A soldier stands guard next to a wall of a prison in Olenivka, in an area controlled by Russian-backed separatist forces, eastern Ukraine, July 29, 2022. A Russian news agency is reporting that the country is preparing to send a battalion of Ukrainian prisoners of war to the front lines in their homeland to fight on Moscow's side in the war. The...
Press play to listen to this article Voiced by artificial intelligence. TEL AVIV — Israeli officials are becoming guardedly optimistic that a hostage deal with Hamas can be reached, but any agreement is likely to be interim and limited. A deal is likely to involve just a few dozen captive Israeli children and elderly, among them some dual nationals,...
Javed Ali broke down the layers of Israel's intelligence community and how the country's agencies failed to stop the invasion of Israel by Hamas militants on October 7An Israeli army tracked medical vehicle moves in a military convoyA counter-terrorism expert has questioned how Israel, with its top-notch intelligence capabilities, missed the threat...
One of the women has Alzheimer's, another was rushed to hospital in distress afterwards and a further two are widows of men executed by the regime in the aftermath of the 1979 revolution."What threat do ill and elderly Baha'is pose to the Iranian government?" asked Simin Fahandej, the BIC's representative to the United Nations. "Nothing but religious...
Saudi Arabia's Crown Prince Mohammed bin Salman met on Saturday with Iran's President Ebrahim Raisi on the sidelines of the extraordinary joint Arab-Islamic summit, the official Saudi Press Agency (SPA) reported.For all the latest headlines follow our Google News channel online or via the app.The meeting is the two leaders' first since the two countries...
More whistleblowers have stepped forward to tell Congress that high-ranking FBI officials are targeting agents for their political beliefs and trying to force them out of the bureau, specifically going after former military members. The Marine Corps and other military veterans at the FBI are being accused of being disloyal to the U.S. because they...
This year, Chile and the United States celebrate 200 years of bilateral relations. And today, our partnership is stronger than it's ever been.
Russian authorities detained left-wing opposition activist Lev Skoryakin in Moscow after he was kidnapped in Kyrgyzstan, probably by special services, a Russian independent human rights project reported on Nov. 3, citing Skoryakin's lawyer.The activist has spent two weeks in a Moscow detention facility and was subjected to torture, the "Political Prisoners....
Published: 13:25 GMT, 11 November 2023 | Updated: 13:25 GMT, 11 November 2023 The infamous Gambino crime family appeared to have gone quiet over the years.Tales of the Sicilian clan's Prohibition-era bootlegging, the bloody Castellamerese War of the 1930s and John Gotti's flamboyant silk suits in the eighties faded into legend.Omerta - the Mafia's...
Syrian President Bashar al-Assad said on Saturday that any political process with Israel should halt given the ongoing violence in Gaza.Assad spoke at a joint Islamic-Arab summit in Saudi Arabia, which gave its blessing to Gulf neighbors United Arab Emirates and Bahrain establishing relations with Israel in 2020 under the previous US administration...
Сегодня15:59Министерство обороны Израиля поставит некой неназванной стране системы противовоздушной обороны. Об этом сообщает Defense News. Сделка оценивается в 1,2 млрд долларов, заявил генеральный подрядчик — концерн Israel Aerospace Industries (IAI). «Отвечая на вопрос Defense News, министерство и Israel Aerospace Industries отказались назвать...
Ukrainian military claims a successful strike on a convoy of Russian troops near Gladkivka, Skadovsk, in the Kherson region.The strike, captured in footage circulating online, showcases a column of Russian military vehicles on the temporarily occupied left bank of the Dnipro River in the Kherson region.Multiple Ukrainian military Telegram channels,...
"Putin must not win." Europe "cannot accept" Russian aggression and should support Ukrainian defence, says German Chancellor Olaf Scholz at a European socialists conference in Spain. 📻 Listen to Times Radio - https://www.thetimes.co.uk/radio 📍 Subscribe to our channel - http://www.youtube.com/channel/UCTjDhFuGXlhx9Us0gq0VK2w?sub_confirmation=1...
14:45, 11 November 2023 YEREVAN, NOVEMBER 11, ARMENPRESS. Iranian President Ebrahim Raisi has called on the leaders of Islamic countries to reach a firm decision on the issue of Palestine and fully implement it. Speaking before departing Tehran on Saturday morning to attend the extraordinary meeting of the Organization of Islamic Cooperation (OIC),...
The United States on Tuesday accused Russia of financing a Latin America-wide disinformation campaign that feeds media contacts with propaganda and fake news aimed at weakening support for Ukraine and boosting anti-U.S. and anti-NATO sentiments."The Kremlin's ultimate goal appears to be to launder its propaganda and disinformation through local media...
There is an obvious question we should ask about the Hamas raid into Israel on Oct. 7 that culminated in a massacre of more than 1,400 people, most of them civilians.Why did Hamas do it?The Hamas planners were quite sophisticated in their techniques. The raiders had precise information on their cellphones about the location of Israel's intelligence...
Russian President Vladimir Putin hasn't reached out to Israel since the attack by Hamas last Saturday, focusing his statements in the past few days instead on the rights of the Palestinian people. "The Palestinian problem is in the heart of every person in this region…And everything that is happening — not only now, but what has been happening for decades...
The Israeli military released a video on Saturday (November 11) showing aerial and artillery strikes it says were targeted on several Hezbollah militant positions in Lebanese territory. #israelpalestineconflict #gazacrisis #WION About Channel: WION The World is One News examines global issues with in-depth analysis. We provide much more...
The US Air Force conducted the first test flight of its new strategic stealth nuclear bomber, the B-21 Raider. The B-21 Raider took its first test flight in Palmdale, California, where it has been under testing and development by Northrop Grumman. The Air Force is planning to build 100 of the warplanes equipped with advanced materials, propulsion, and...
Hour by Hour Iranian President Ebrahim Raisi arrived in Saudi Arabia on Saturday to take part in a joint Arab-Islamic summit on the war between Israel and the Palestinian militant group Hamas in the Gaza Strip, state-affiliated media reported. This marks his first visit since Iran and Saudi Arabia agreed to restore ties in March. Follow our live...
Saudi Arabia is hosting an extraordinary summit on Saturday, bringing together countries from the Islamic and Arab worlds to discuss the worsening situation in Gaza. Delivering the opening remarks, Saudi crown prince Mohammed Bin Salman called for an immediate cessation of military operations in Gaza and the release of all captives and prisoners.list...
Iranian President Ebrahim Raisi addresses a Hamas solidarity rally in Tehran. Photo: Reuters/Sobhan Farajvan Iran's president will attend an emergency summit of the Organization of Islamic Cooperation (OIC) in the Saudi Arabian capital of Riyadh on Sunday, in another sign of the rapprochement between the two rival Gulf states amid renewed conflict...
Live updates: Follow the latest news on Israel-GazaLeaders of the Arab and Islamic world will gather in Riyadh on Saturday for a combined summit of the Arab League and Organisation of Islamic Co-operation with one issue on the agenda: Israel's war on Gaza.Overnight, leaders including Syria's Bashar Al Assad, Palestinian President Mahmoud Abbas and Qatar's...
This column was created in order to promulgate civic republicanism, a political philosophy originating in ancient Athens and Rome. The philosophy calls for individuals to look out for the general interest of their community, or polity, beyond their own individual concerns. An alternative term for the philosophy is communitarianism, and its first major...
If Azerbaijan reaffirms what has already been agreed, it will mean that 70 percent of the work is done, Prime Minister of Armenia, Nikol Pashinyan, stated during his speech at the 6th Paris Peace Forum on November 10. "Now the most important nuance is whether Azerbaijan will reconfirm what was already agreed in Brussels during our negotiations, set...
A former Nato secretary general has put forward a proposal for Ukraine to join the military alliance but stripped of the territories occupied by Russia.Anders Fogh Rasmussen has long worked alongside Andriy Yermak, an adviser to the Ukrainian president, Volodymyr Zelenskiy, particularly ahead of the last Nato summit in Vilnius this year that ended with...
The request from President Zelensky to visit Israel sets up a dramatic visit from the leader of one war-ravaged country to another just as the Ukrainian leader seeks more aid from Western powers before winter hits. On Wednesday, Mr. Zelensky sent an official request to visit Israel to the office of Prime Minister Netanyahu on Wednesday to visit Israel....
Joseph EpsteinD.C.-based analyst covering the Middle East and Post-Soviet SpaceThe night of the Hamas massacre in Israel, the Israeli flag lit up on buildings throughout Kyiv in solidarity with the Jewish state, while Ukrainian President Volodymyr Zelensky condemned the terrorist group and called Israel's right to defence "unquestionable". Zelensky...
A woman confronted a father, who was wearing a Palestinian scarf, and his toddler son at a Brooklyn playground earlier this week, deriding them as terrorists and hurling a cup of hot coffee at them, police said Friday. The attacker, who was wearing black and white baseball cap, stepped up to the 40-year-old father and son at 12:30 p.m. at Edmonds...
ALBAWABA - the Russian hacker group known as "Killnet" has officially declared a cyberwar on Israel. The group announced its intention to launch a widespread cyberattack targeting various government systems within Israel.In the latest developments related to the ongoing conflict in Gaza, several significant events have unfolded.Israeli military radio...
November 10, 2023 by intelNews SINCE OCTOBER 7, WHEN Hamas launched its surprise attack on Israel, many more details about the intelligence failure have emerged. It appears that Israeli intelligence officials have warned for years about military exercises held by Hamas in the Gaza Strip, which have included practice raids on cities deep inside...
The work was done by the book, the director wrote in his Aug. 11 email. "We don't cut corners. We don't play favorites." The internal message was an acknowledgment of the unprecedented nature of the search and the subsequent pummeling the bureau had been receiving from Trump and his supporters. It also was a recognition that the FBI had been navigating...
Doha (Reuters) – The CIA and Mossad chiefs met with the Qatari prime minister in Doha on Thursday to discuss the parameters of a deal for hostage releases and a pause in Hamas-Israel fighting in the Gaza Strip, a source briefed on the meeting told Reuters. The outcome of the talks was unclear. Qatar, where several Hamas political leaders...
After the death of Wagner leader Yevgeny Prigozhin, the Kremlin is putting a new power structure in place that will take over the group's sprawling operations in Africa, which have advanced Russian influence on the continent for almost a decade. Photo illustration: JJ LinA global look at the economic and cultural forces shaping our world.
Russian Defense Minister Sergei Shoigu spoke for the first time about the aborted Wagner group rebellion in late June. He said the mutiny failed because the army "showed loyalty to their oath and military duty." Photo: Russian Defense Ministry/Reuters
Russia's feared mercenary Wagner group has allegedly been training Hamas terrorists with the attacks on Israel having "Russian hands" on it, an expert has claimed. Earlier this week, it was reported that Chechen warlord Ramzan Kadyrov, a close ally of President Vladimir Putin, had offered to find a "peaceful solution" while also offering to back Hamas...
Vladimir Putin is increasingly confident Russia's military can outlast Ukraine as a second winter of war approaches with Kyiv's U.S. and European allies distracted by the deepening conflict between Israel and Hamas.The Kremlin is convinced developments are moving in Putin's favor and that he'll be able to hold on to territories in southern and eastern...
Today, President Abdel Fattah El-Sisi received a phone call from Federal Chancellor of the Federal Republic of Germany, Olaf Scholz. Spokesman for the Presidency, Counselor Ahmed Fahmy, said the phone call followed-up on the latest developments in the Gaza Strip. President El-Sisi and the Federal Chancellor reviewed Egypt's unyielding efforts to...
Demonstrators protesting Israel-Hamas war arrested at US CapitolHundreds of pro-Palestinian protesters with the group, Jewish Voice for Peace, were arrested at the Capitol while protesting the Israel-Hamas war.As we can see in Ukraine and now the Middle East, wars of aggression, acts of genocide, tyranny and terrorist atrocities do not happen in isolation.From...
"We want no Gestapo or Secret Police. FBI is tending in that direction." — Harry TrumanWith every passing day, the United States government borrows yet another leaf from Nazi Germany's playbook: Secret police. Secret courts. Secret government agencies. Surveillance. Censorship. Intimidation. Harassment. Torture. Brutality. Widespread corruption. Entrapment....
SaveFBI Director Christopher A. Wray said last month he could not accept a federal official's decision to relocate the agency's headquarters from downtown Washington to the Maryland suburbs, criticizing the politically fraught and drawn out site selection process as fatally flawed, according to a letter obtained by The Washington Post.The Oct. 12 letter...
The CIA and Mossad chiefs met with the Qatari prime minister in Doha on Thursday to discuss the parameters of a deal for hostage releases and a pause in Hamas-Israel fighting in the Gaza Strip, a source briefed on the meeting told Reuters. The outcome of the talks was unclear. Qatar, where several Hamas political leaders are based, has been leading...
On 13 October in Kyrgyzstan's capital Bishkek, Putin claimed that 'no one suspects [Russia] wishes to play around' with the Gaza conflict because of its strong and good relations with each of the protagonists. But the historical record belies this assurance. Even in Soviet times, when Moscow took the ideological offensive against 'US imperialism' and...
SUCCESSION In recent weeks, Russia's Deputy Defence Minister Yunus-Bek Yevkurov and General Andrei Averyanov from the GRU military intelligence agency have made several trips to Africa. The two are increasingly seen as the main organisers of the post-Prigozhin era of Russian relationships with Africa following the Wagner Group chief's demise in...
The first orders went out before 4am: anyone who had been attending the regular training sessions and was not planning to attend dawn prayers at their usual mosques must go to pray.An hour later, as the sky began to lighten over Gaza and the congregations began to disperse, new instructions were issued. These too were straightforward and passed mainly...
The shock attack was a long-planned operation for the '1000% committed' Hamas commanders — yet orders were passed down at the last momentOne month after the start of Israel's war against Hamas, The Guardian released a report explaining who was in charge of the October 7 attack, how the massacres were organized and what the terrorists viewed as their...