Media needs fresh blood and new spectacles: Putin's brutal war on Ukraine vanishes from news coverage amid raging conflict in Gaza - Saved Web Pages Review - 9:18 AM 11/17/2023
Media needs fresh blood and new spectacles: Putin's brutal war on Ukraine vanishes from news coverage amid raging conflict in Gaza - Google Search https://t.co/eKIWj0jln9

— Michael Novakhov (@mikenov) November 17, 2023
-
Putin's brutal war on Ukraine vanishes from news coverage amid raging conflict in Gaza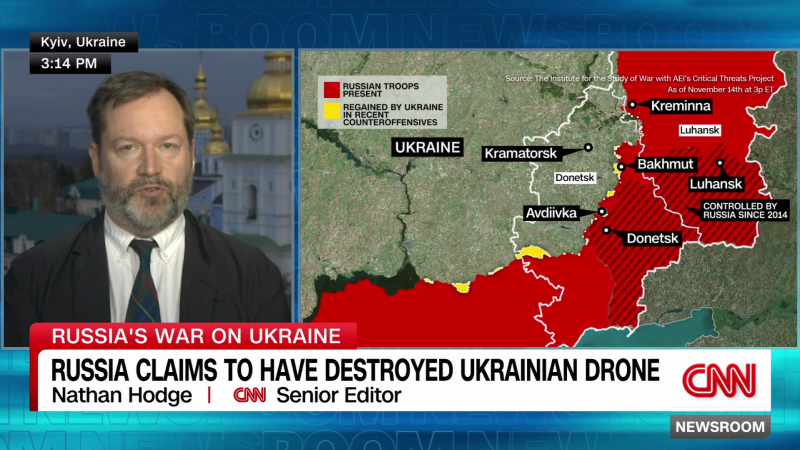 Editor's Note: A version of this article first appeared in the "Reliable Sources" newsletter. Sign up for the daily digest chronicling the evolving media landscape here.
When was the last time you saw a live television news report from Ukraine? It's likely been a while.
The raging war in the Middle East has put the prolonged war in Eastern Europe largely on the back burner, in terms of media coverage, with Vladimir Putin's campaign of brutality against Ukraine receiving much less attention from the press than it did prior to the Israel-Hamas conflict breaking out.
Closed-captioning data from the Internet Television Archive, which was analyzed by the GDELT Project, showed that on cable news, coverage of the Ukraine war plummeted dramatically after Hamas' shocking Oct. 7 terror attack. In the days before the Israel-Hamas war, the battle in Ukraine amounted to about eight percent of CNN's television coverage. After the attacks, CNN —the cable news network that provided the most Ukraine coverage — fell to under one percent.
As the chaos to elect a new House speaker ensnared Washington, there was a notable uptick in mentions of Ukraine on cable news networks — but the focus of the coverage mostly pertained to U.S. funding of the embattled nation, not the actual state of play in the war.
Data provided by ComScore, an Internet analytics firm, showed a similar trend play out online. The data indicated that there has been a significant drop in discussion on social media about the Ukraine war since the onset of the Israel-Hamas conflict, though it also indicated that in general, there had been a lull in attention to Putin's invasion in recent months.
The noted drop in Ukraine war coverage from the press, given the fresh violence in the Middle East, is not completely surprising. The horrific acts of violence Hamas carried out in Israel has shocked the world, arresting the attention of those who normally pay little regard to global affairs. U.S. outlets have also been juggling several other important stories in the last several weeks, including disarray in Congress, Donald Trump's legal issues and a monstrous mass shooting in Maine.
But, at the same time, the drop in attention paid to Ukraine has been nothing short of a boon for Putin. The authoritarian Russian leader, who has committed unspeakable atrocities as his forces invade a sovereign nation, has been able to wage his war with far less scrutiny on his appalling actions.
Paul Kolbe, a senior fellow at the Belfer Center for Science and International Affairs in Harvard Kennedy School, who served for 25 years in the Central Intelligence Agency, told me that Putin must be "delighted" that the war between Israel and Hamas "is diverting US attention" as Russia "continues to strike Ukrainian cities and civilian targets."
"Even as Western press coverage of war in Ukraine wanes, Russia fills the vacuum in reporting with its own campaign of distributing lies and disinformation," Kolbe said. "Putin's strategy is to wear down Western patience and support, play upon U.S. domestic divisions, and to prey upon those in NATO which harbor latent Russian sympathies."
In addition to the kinetic military action, Putin is also waging an information war, using all the tools at his disposal to lie about and sanitize the acts of savagery being committed against a civilian population under his orders. As Kolbe told me, "Putin's media campaign to paint Ukraine as divided, corrupt, and a puppet of the U.S. and NATO, is a central part" of his strategy.
The lack of press attention makes that all the more easier.
🎵 Buy the MP3 album on the Official Halidon Music Store: https://bit.ly/3SBGkV6
🎧 Listen to our playlist on Spotify: http://bit.ly/TheBestOfClassicalMusic

💿 Order "Violin: Classical Music Masterpieces" (Vinyl) on Amazon: https://lnk.to/ViolinMasterpiecesVinyl ✨

These recordings are available for sync licensing in web video productions, corporate videos, films, ads and music compilations.
For further information and licensing please contact info@halidononline.com

👉 The HalidonMusic Sync Licensing platform is now live at https://licensing.halidonmusic.com
📧 Subscribe to our newsletter and get a 20% discount on the Halidon Music Store: http://bit.ly/HalidonNewsletter

☕If you like what we do and would like to support us, you can now buy us a coffee: https://www.buymeacoffee.com/halidonmusic. Donations will go towards keeping the YouTube channel going and funding new recording sessions with our amazing team of artists. Thank you! 🙏

Violin & Piano
Classical Music
Tracklist:

0:00:00 Chopin - Nocturnes, Op. 9: No. 2 in E Major, Andante
(Transcr. for Violin and Piano by A. Schulz)
0:04:40 Elgar - Salut d'amour, Op. 12
0:07:53 Debussy - Préludes, Premier Livre: No. 8, La Fille aux Cheveux de Lin
(Transcr. for Violin and Piano by A. Hartmann)
0:10:56 Debussy - Suite Bergamasque, L. 75: III. Clair de Lune
(Transcr. for Violin and Piano by A. Roelens)
0:15:34 Massenet - Thaïs, DO 24, II: Méditation
(Arr. for Violin and Piano by M. Marsick)
0:20:47 Chopin - Nocturne in C-sharp minor, Op. Posth.
(Transcr. for Violin and Piano by N. Milstein)
0:24:59 Chopin - Nocturnes, Op. 9: No. 1 in B Minor, Larghetto
(Transcr. for Violin and Piano by A. Schulz)
0:31:05 Debussy - Beau Soir, L. 6
(Transcr. for Violin and Piano by J. Heifetz)
Alessandro Clerici, violin
Elena Brunello, piano

0:33:27 Saint-Saëns - Samson and Delilah: "My Heart at Thy Sweet Voice"
0:39:26 Offenbach - Les Contes d'Hoffmann, IV: "Barcarolle: Belle nuit, ô nuit d'amour"
Klodiana Koci, violin
Davide Scarabottolo, piano

0:42:29 Part - Spiegel im Spiegel
Luke Faulkner, piano
Nadia Vasileva, violin

0:50:59 Elgar - Romance for Violin and Piano, Op. 1
0:56:14 Bridge - Gondoliera, H. 80
1:00:38 Bridge - Romanze for Violin and Piano, H. 45
Alessandro Clerici, violin
Elena Brunello, piano

1:05:28 Brahms - 4 Duets, Op. 61: No. 3, Phänomen (Love Hath Not Departed)
1:07:48 Schumann - Piano Trio No. 3, Op. 110: I. Bewegt, doch nicht zu rasch
1:17:38 Schumann - Piano Trio No. 3, Op. 110: II. Ziemlich langsam - Etwas bewegter - Tempo I
Anna Ouspenskaya, FamTrio

1:23:05 Mendelssohn - Piano Trio No. 2, Op. 66: No. 2, Andante espressivo
Anna Ounspenskaya, Capital Trio

Beethoven - Piano Trio in B-Flat Major, Op. 97 "Archduke"
1:29:55 I. Allegro moderato
1:42:12 II. Scherzo Allegro
1:48:42 III. Andante cantabile ma però con moto
2:01:39 IV. Allegro moderato
Anna Ouspenskaya, FamTrio

---

Thank you so much for watching this video by Halidon Music channel, we hope you enjoyed it! Don't forget to share it and subscribe to our channel

All the best classical music ever on Halidon Music Youtube Channel: the best classical music playlist mix, the best classical music for studying, classical music for reading, classical music for concentration, classical music for sleeping and relaxation, instrumental music, background music, opera music, piano, violin & orchestral masterpieces by the greatest composers of all time. The very best of Mozart, Beethoven, Bach, Chopin, Vivaldi, Mahler, Rossini, Strauss, Verdi, Chopin, Bach, Brahms, Ravel, Grieg Ravel, Dvorák...

#classicalmusic #piano #violin
The International Center of Justice for Palestinians says International Criminal Court case will focus on role of politicians in 'aiding and abetting Israel's perpetration of war crimes'
The organization also accuses the Canadian officials of turning a 'blind eye' to 'ethnic cleansing through a campaign of forced displacement of 1.2 million people'
CHICAGO: The International Center of Justice for Palestinians plans to file petitions with the International Criminal Court seeking war crimes indictments against four leading Canadian officials, including Prime Minister Justin Trudeau.
The organization's Legal Working Group for Canadian Accountability said on Thursday the prosecutions would focus on the role of politicians in "aiding and abetting Israel's perpetration of war crimes" in the Gaza Strip.
Israel's bombardment of Gaza, followed by a ground invasion, began after a surprise attack by Hamas on Oct. 7 that reportedly killed about 1,400 Israeli civilians and military personnel in the area around the territory's northern border with Israel.
The ICJP, which describes itself as an independent organization of lawyers, academics and politicians that work to promote and support Palestinian rights, accused the Canadian officials of being "complicit in war crimes."
It said that despite the rising civilian death toll in Gaza and "clear evidence of war crimes and crimes against humanity, and despite international outrage from the United Nations and human rights experts across the globe, Canada has continued to pledge its steadfast support for Israel.
"It has also refused to halt arms exports, refused to take action to prevent the illegal recruitment of Canadian volunteers to assist Israel's military, and refused to stop millions of dollars from being unlawfully sent by some Canadian organizations with charitable status to benefit Israel's military."
It said it "calls on the government of Canada to end its complicity in war crimes by calling for a ceasefire, canceling all arms-exports permits to Israel, prosecuting those recruiting Canadian volunteers for Israel's armed forces, and preventing Canadian charities from using donations to benefit Israel's armed forces."
In the weeks since the attack by Hamas, Israel's military has destroyed thousands of buildings in northern Gaza, killed more than 11,000 Palestinians, including more than 4,500 children, and injured tens of thousands of civilians, according to figures from the Gazan Health Ministry. Israeli authorities also ordered more than a million people in northern Gaza to move to the south of the territory ahead of its ground invasion.
The ICJP accused Canadian officials of turning a "blind eye" to "ethnic cleansing through a campaign of forced displacement of 1.2 million people."
In addition to Trudeau, Minister of Foreign Affairs Melanie Joly, Minister of National Revenue Marie-Claude Bibeau, and Minister of Justice and Attorney General Arif Virani are named as potential defendants in the petition to the court.
Trudeau initially suggested that pro-Palestinian protesters in Canada were "celebrating" the Hamas violence, and declared that Israel had a right to defend itself, while failing to acknowledge years of Israeli aggression against Palestinians in Gaza.
He did call for civilians to be protected but stopped short of directly criticizing the Israeli bombardment that has destroyed mosques, schools, hospitals and other public buildings. Israeli authorities say that Hamas has set up underground bases at such locations and are using civilians as human shields.
However, Trudeau more recently urged Israel's government to exercise restraint in its military response, which drew criticism from authorities in the country.
"I have been clear that the price of justice cannot be the continued suffering of all Palestinian civilians. Even wars have rules," he said.
He also called on Hamas to stop using Palestinian civilians as human shields and to release all hostages taken on Oct. 7 "immediately and unconditionally."
On the same day the federal authorities raided the home of Mayor Eric Adams's chief fund-raiser, they also searched the residences of two people with ties to Turkey.