9:41 AM 11/16/2023 - News Review - Selected Articles: Lapid calls for immediate Netanyahu resignation - Jewish Insider ... Seven dead in US strikes on Iran-linked militia in Syria - Arab News ... Israel Defence Forces take lessons from Ukraine war - Legion Magazine ... Ukraine seeks to win over Israel as an ally against Russia - EL PAÍS USA ... France issues arrest warrants for Syrian President Assad, 3 generals ... - PBS NewsHour ... How Iran and Its Allies Hope to Save Hamas - War On The Rocks ... Iran is calling Biden's bluff - The Hill ... From Red Terror to Terrorist State. Russia's Secret Intelligence Services and Their Fight for World Domination - new book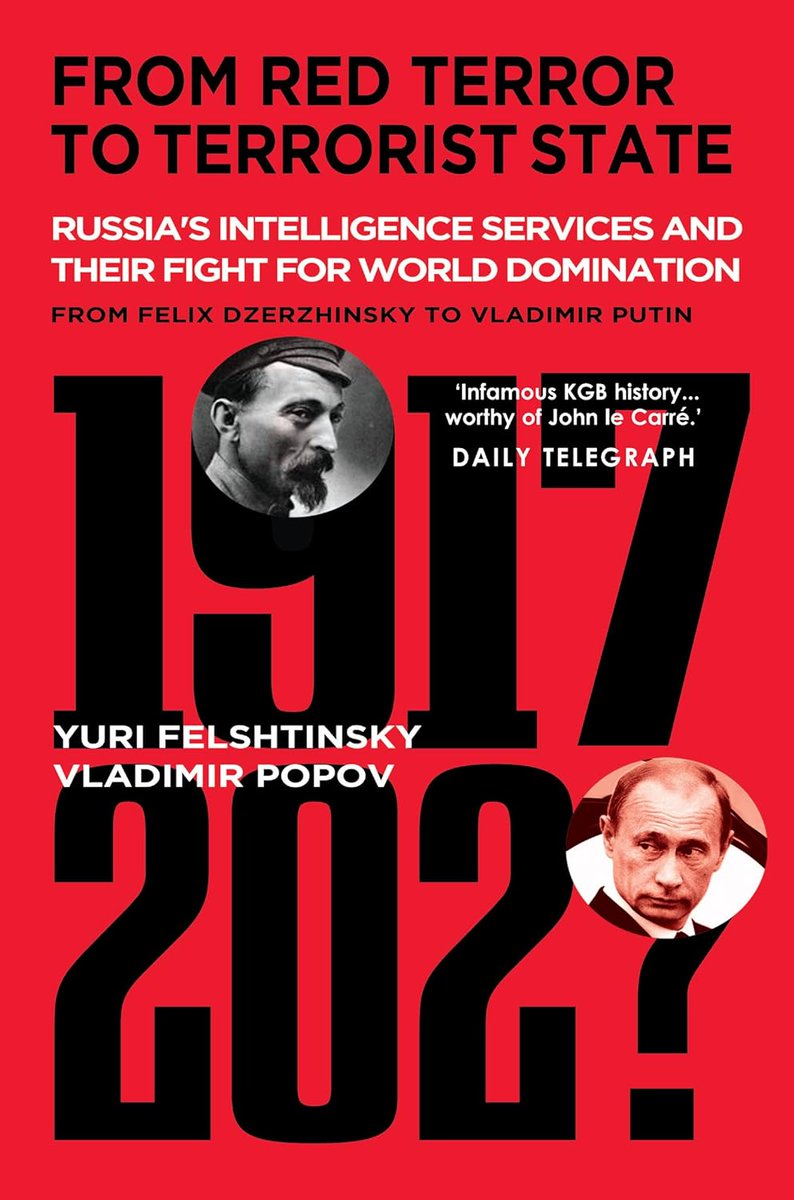 Selected Articles - Michael Novakhov's favorite articles on Inoreader - The News And Times -
9:41 AM 11/16/2023 - Post Link
From Red Terror to Terrorist State. Russia's Secret Intelligence Services and Their Fight for World Domination - new book out now #KGB #Cheka #Lenin #Gorbachev #Putin #intellbooks pic.twitter.com/b2TJGCru7n— intellbooks (@intellbooks) November 13, 2023
Israel-Hamas war: The Israeli military calls for further evacuations in Gaza NPR
Iran is calling Biden's bluff The Hill
AP News Summary at 11:57 p.m. EST | National News ... Washington Times Herald
Nazanin: What Iran jail hell taught me about freedom of speech Evening Standard
How Iran and Its Allies Hope to Save Hamas War On The Rocks
German Police Raid Group Over Alleged Links To Iran-backed Hezbollah Barron's
France issues arrest warrants for Syrian President Assad, 3 generals ... PBS NewsHour
Biden likely to discuss Ukraine and Israel wars with Xi Jinping. Etemaad
Ukraine-Russia war – live: Putin's warplanes 'drop bombs' on civilian shipping lanes as Kyiv troops advance Yahoo News
Americans leaving Gaza report chaos, relief — and worry for people ... WCSU
'We have the Islamist scene in our sights,' says interior minister after 54 sites raided throughout country in probe against Islamic Center Hamburg The post German police raid group over alleged ties to Hezbollah, amid antisemitism crackdown appeared first on The Times of Israel.
Six Israelis wounded in terror shooting near Jerusalem JNS.org
How U.S. satellite rules are different only for Israel NPR
Israel-Hamas war live updates: Israeli forces storm Gaza hospital again NBC News
IDF says weapons found in Gaza hospital prove it was 'unequivocally' used for terror The Times of Israel
BBC apologizes for false claim IDF targeting medical staff, Arabic speakers in Gaza The Times of Israel
Ukraine seeks to win over Israel as an ally against Russia EL PAÍS USA
China Fails Leadership Test on Gaza, ex-Mossad Chief Says Newsweek
Saudi Arabia condemns Israeli raid on Al-Shifa hospital, bombing ... Arab News
Israel Defence Forces take lessons from Ukraine war Legion Magazine
Inside depraved world of billionaire butcher Bashar al-Assad who slaughtered children with help from best... The Sun
Seven dead in US strikes on Iran-linked militia in Syria Arab News
Dramatic Increase in Israelis Seeking Gun Permits in October, Following Hamas Massacre - Israel News Haaretz
Lapid calls for immediate Netanyahu resignation Jewish Insider
After West Bank attack, Ben Gvir calls to treat PA like Hamas in Gaza The Times of Israel
Putin Sends Jets With Hypersonic Missiles to Patrol Black Sea Bloomberg
What has Israel 'found' in Gaza's al-Shifa Hospital? Al Jazeera English
'Terrifying': Death and despair continue in Gaza as Israeli attacks rage on Al Jazeera English
Israel Bombs Home Of Hamas' Political Chief Ismail Haniyeh, Shares Video NDTV
In a significant development in the ongoing conflict between Ukraine and Russia, reports suggest that the son of Yevgeny Prigozhin, a Russian businessman with close ties to the Kremlin, has taken command of the Wagner Group. This information comes from a renowned Wagner-affiliated Telegram channel, as cited by the Institute for the Study of War (ISW),...
New Leadership Emerges in Wagner Group amid Ukraine-Russia ... World Report Now
France issues arrest warrant for Syrian President Bashar Al Assad The National
China's absorption of Taiwan is 'unstoppable', Xi tells BidenNovember 16 2023, 8.05amKeiran Southern, San Francisco | Richard Lloyd Parry, Asia Editor | Alistair Dawber, Washington
Israel should not harm it's relations with Russia, due to the long story of cooperation and Moscow's role in the Middle EastAmid all the tensions on the international arena and difficulties, that both Russia and Israel are facing in their relations today, Moscow's still playing a major role in the Middle East. So Israel should balance and keep good...
Russia's role in the Middle East: A key factor in Israel's foreign polic The Jerusalem Post
Bodycam footage handed to CNN by IDF shows gunman crossing Gaza border, shooting at Israeli homes, posing with troop's body and proudly praying for martyrdom, before being killed The post In new Oct. 7 clip, Hamas terrorist cheers civilian bodies, boasts he killed soldiers appeared first on The Times of Israel.
'We do not tolerate Islamist propaganda or anti-Semitic and anti-Israel agitation,' German Interior Min. Faeser says.
EU's Borrell urges Israel not to be 'consumed by rage' RTE.ie
Terrorists killed after opening fire at 'tunnels' checkpoint on Route 60; police: Axes, guns, ammo, IDF uniform found in their car; police chief: They planned large-scale 'massacre' The post 6 injured, 1 critically, in attack by 3 gunmen at West Bank checkpoint near Jerusalem appeared first on The Times of Israel.
A synagogue in Yerevan, Armenia was set on fire on November 15, according to Azerbaijani Ambassador to Germany Nasimi Aghayev who shared footage of the attack.A synagogue in Yerevan, Armenia, which is the country's only synagogue, was burned last night. Alarming rise in #antisemitism in Armenia makes its small Jewish community quite vulnerable. According...
Published: 01:08 GMT, 3 November 2023 | Updated: 12:03 GMT, 3 November 2023 Russia's paramilitary Wagner Group plans to provide advanced anti-aircraft defense systems to Hezbollah for deployment near Israel's northern border, according to a new report.Wagner wants to send the Iran-backed Hezbollah terror group the Russian SA-22 Greyhound system,...
Russia's Wagner Group 'plans to give Hezbollah high tech air-defenses' to deploy along the border with Israel Daily Mail