Israel - Wagner Group and Gaza war - News Review - RSS Page | Russia's Wagner is on the verge of getting involved in the Israel-Hamas war in Gaza. ... Russia's Wagner group prepares to send Hezbollah weapons amid clashes with Israel, US says ... Wagner elements in Syria will reportedly transfer Russian Pantsir-S1 air defense systems that Syrian President Bashar al-Assad has agreed to provide to Iranian-backed Lebanese Hezbollah - 6:01 AM 11/18/2023
Russia's mercenary group is preparing to deliver an advanced air defense missile system to Hezbollah as the Lebanese militia group clashes with Israel, according to US intelligence.
American officials are currently monitoring discussions between the Wagner mercenary group and Lebanon's Hamas-supporting militia over the possible delivery of the SA-22, a system that uses anti-aircraft missiles and guns to combat airstrikes, the Wall Street Journal reports.
The SA-22 system, also known as Pantsir-S1, is a truck-mounted surface-to-air missile and anti-aircraft artillery weapons system made in Russia.
The weapon has seen action in the Russian-Ukraine War and could be deployed in the Middle East as a defense for the Iran-backed militia group against Israel's airstrikes.
Clashes between Israel and Hezbollah have increased along the Lebanese border as the war with Hamas rages in Gaza.
American officials say the SA-22 has yet to be delivered to Lebanon, but noted that some Hezbollah and Wagner personnel are currently stationed in Syria.
Hezbollah fighters are allegedly in contact with Russia's Wagner mercenary group to receive an anti-aircraft weapon. AP The SA-22, developed in Russia, uses missiles and gunfire to take out aircrafts.Imagebroker/Shutterstock
It remains unclear if the weapon could be transported from Lebanon to Gaza as a means to help Hamas combat Israel's bombardments of the Palestinian enclave.
Russian officials have yet to comment on the alleged discussions between Wagner and Hezbollah.
The US has made its presence known in the area by stationing an aircraft carrier in the Eastern Mediterranean as a deterrent for Hezbollah to join Hamas in attacking Israel.
After Israel declared war on Hamas on Oct. 7, President Biden warned outside parties from staging an assault on Israel's borders.
The Wagner Group lost its autonomy following the mercenaries' coup attempt over the summer. AP
Despite the warning, the heads of Hamas, Hezbollah, and the Palestinian Islamic Jihad met last week to announce their united war against the Jewish State.
The trio of terrorist leaders — dubbed the "axis of resistance" — met to set a goal for achieving "a real victory for the resistance in Gaza and Palestine" and halt Israel's "treacherous and brutal aggression against our oppressed and steadfast people in Gaza and the West Bank," according to a brief statement released afterward.
The meeting came after Israel vowed to launch a full-scale military assault against Iran if Hezbollah joined the ongoing war.
"The plan of Iran is to attack Israel on all fronts. If we find they intend to target Israel, we will not just retaliate to those fronts, but we will go to the head of the snake, which is Iran," Nir Barkat, Israel's Minister of Economy, told the Daily Mail.
Information Cutoff: 2:00 pm EST
Contributor: James Cary
The Iran Update provides insights into Iranian and Iranian-sponsored activities abroad that undermine regional stability and threaten US forces and interests. It also covers events and trends that affect the stability and decision-making of the Iranian regime. The Critical Threats Project (CTP) at the American Enterprise Institute and the Institute for the Study of War (ISW) provides these updates regularly based on regional events. For more on developments and in Iran and the region, see our interactive map of Iran and the Middle East.
Wagner elements in Syria will reportedly transfer Russian Pantsir-S1 air defense systems - GS
-
Wagner elements in Syria will reportedly transfer Russian Pantsir-S1 air defense systems that Syrian President Bashar al-Assad has agreed to provide to Iranian-backed Lebanese Hezbollah.
(NOTE: This text also appeared in the Institute for the Study of War's November 3 Russian Offensive Campaign Assessment) CNN reported on November 3 that two people familiar with US intelligence stated that Assad agreed to provide the Russian air defense systems to Hezbollah and tasked Wagner with their delivery during joint conversations between the three actors.[lxii] The Wall Street Journal reported on November 2 that US intelligence indicated that Wagner itself would give the Russian air defense systems to Hezbollah.[lxiii] Israel frequently conducts airstrikes on Iranian weapons shipments into and through Syria, and Assad may have asked Wagner to deliver the air defense systems to Hezbollah to act as a deterrent to potential Israeli interdiction efforts.[lxiv] CTP-ISW has previously assessed that Russia may be able to facilitate weapons shipments in Syria without risking Israeli airstrikes, and the Kremlin may believe that this Israeli reticence will extend to Wagner.[lxv] Russia and Israel have a complex relationship in Syria, as Israel has historically relied on Russia to curb Iranian activities in Syria.[lxvi]
Iranian Foreign Affairs Minister Hossein Amir Abdollahian held separate phone calls with Syrian Foreign Minister Faisal Mekdad and Russian Foreign Minister Sergei Lavrov on November 3.[lxvii] Abdollahian emphasized the readiness of Axis of Resistance members to act against Israel during his meeting with Mekdad.[lxviii] These phone calls follow Iranian Supreme National Security Council Secretary Rear Admiral Ali Akbar Ahmadian's meeting with Russian President Vladimir Putin's Special Representative for Syrian Affairs Alexander Lavrentiev in Tehran on November 2.[lxix] Iranian media additionally recirculated on November 3 Western reporting that Israel is not giving Russian forces advanced warning of its strikes into Syria.[lxx]
Iraqi Prime Minister Shia al Sudani removed two professional, experienced military commanders on November 1, possibly due to pressure from the Iranian-backed Shia Coordination Framework. Sudani removed Counter-Terrorism Service commander LTG Abdul Wahhab al Saadi and Baghdad Operations Commander LTG Ahmed Salim Bahjat, replacing them with experienced CTS LTG Karim Abboud Mohammed and former Prime Minister Nouri al Maliki-linked MG Walid Khalifa al Tamimi respectively.[lxxi] An Iraqi political analyst said that the sackings were due to "political influences," adding that the Shia Coordination Framework fears the CTS after it conducted raids targeting Iranian-backed factions under former Prime Minister Mustafa al Kadhimi.[lxxii] The analyst added that the Framework is attempting to "control" the CTS and that "those in power" are fearful of a CTS-led coup.[lxxiii]
The Secretary General of the Iraqi Defense Ministry issued instructions to the Iraqi Army Chief of Staff on October 28 to ensure troop and materiel readiness on account of the rapidly changing security situation.[lxxiv] The leaked letter instructed forces to protect weapons and ammunition depots, to repair all military equipment and weapons, and secure barracks and bases, and advised additional intelligence collection against future threats.
Iranian Foreign Affairs Minister Hossein Amir Abdollahian is continuing to coordinate politically with senior Hamas leadership. Abdollahian held a phone call with Hamas Political Bureau Chairman Ismail Haniyeh on November 2, marking the fourth time Abdollahian and Haniyeh have discussed the Israel-Hamas war since October 7.[lxxv] Iranian media did not provide details of what Abdollahian and Haniyeh discussed. Their phone call notably comes amid IDF spokesperson Rear Admiral Daniel Hagari's November 2 announcement that Haniyeh is slated to travel to Tehran.[lxxvi] Iranian diaspora and anti-regime media recirculated Hagari's announcement, although state-controlled outlets have not responded to or denied the announcement.[lxxvii]
Russia's Wagner is on the verge of getting involved in the Israel-Hamas war in Gaza.
The Wall Street Journal reported that the U.S. officials are worried that Wagner might send the SA-22 (Pantsir-S1) air defence system to help Hezbollah in its fight against Israel from Lebanon. The report added that no such transfer has happened till now and American officials are keeping close watch on the conversations between Hezbollah and Wagner. Both militias are already working closely in Syria to help bolster Syrian dictator's rule. Watch for more details.

#hezbollah #wagner #israelhamasconflict #lebanon #russia #Israel #telaviv #Moscow #hassannasrallah #vladimirputin #benjaminnetanyahu #pantsir #airdefencesystem #usa #unitedstates #intelligence #whitehouse #joebiden #gaza #Palestine #war #syria #basharalassad
🎵 Buy the MP3 album on the Official Halidon Music Store: https://bit.ly/3N1cvqW
🎧 Listen to our playlist on Spotify: http://bit.ly/CinematicMusicPlaylist

💿 Order "Film Music" (Vinyl) on Amazon✨: https://lnk.to/VinylFilmMusic
🛍️Visit the Halidon shop on Amazon : https://lnk.to/StoreHalidon

These recordings are available for sync licesing in web video productions, corporate videos, films, ads and music compilations. For further information and licesing please contact info@halidonmusic.com

👉 The HalidonMusic Sync Licensing platform is now live at https://licensing.halidonmusic.com
📧 Subscribe to our newsletter and get a 20% discount on the Halidon Music Store: http://bit.ly/HalidonNewsletter

☕ If you like what we do and would like to support us, you can now buy us a coffee: https://www.buymeacoffee.com/halidonmusic. Donations will go towards keeping the YouTube channel going and funding new recording sessions with our amazing team of artists. Thank you! 🙏

Classical and Orchestral Film Music
The Most Beautiful Movie Soundtracks
Tracklist:

Nino Rota
00:00 A Time for Us (Love Theme from "Romeo and Juliet")
Performed by: Metamorphose String Orchestra, Pavel Lyubomudrov

Ennio Morricone
02:59 Gabriel's Oboe
05:29 The Falls
08:51 Deborah's Theme (from "Once Upon a Time in America") - Live
12:22 Once Upon a Time in America (Main Theme) - Live
14:09 Once Upon a Time in the West (Main Theme) - Live
Performed by: Metamorphose String Orchestra, Pavel Lyubomudrov
Cello: Mikael Samsonov

John Williams
17:11 Theme from "Schindler's List"
Performed by: Metamorphose String Orchestra, Pavel Lyubomudrov

Samuel Barber
20:42 Adagio for Strings
Heard in: "Platoon"
Metamorphose String Orchestra, Pavel Lyubomudrov

Ludwig van Beethoven
26:20 Symphony No. 7 in A Major, Op. 92: II. Allegretto
Heard in: "The King's Speech"
Orchestra da Camera Fiorentina, Giuseppe Lanzetta

Remo Giazotto
35:34 Adagio in G Minor "Albinoni's Adagio" (Arr. for Piano by F. Pott)
Heard in: Manchester by the Sea
Vadim Chaimovich

Pyotr Ilyich Tchaikovsky
43:01 Swan Lake, Op. 20: Scene by a Lake
Heard in: "Black Swan"
Metamorphose String Orchestra, Pavel Lyubomudrov

Dmitri Shostakovich
45:34 Suite for Variety Orchestra: VII. Waltz No. 2
Heard in: "Eyes Wide Shut"
Mr & Mrs Cello

Pyotr Ilyich Tchaikovsky
48:30 The Nutcracker, Op. 71a: Waltz of the Flowers
Heard in: "Fantasia"
Mr & Mrs Cello

Henry Mancini
50:57 Moon River (from "Breakfast at Tiffany's")
Performed by: Mr & Mrs Cello

Francis Lai
53:01 Theme from "Love Story"
Performed by: Mr & Mrs Cello

Ennio Morricone
56:02 Nuovo Cinema Paradiso
Performed by: Mr & Mrs Cello

Justin Hurwitz
1:00:16 Mia and Sebastian's Theme (from "La La Land")
Performed by: Mr & Mrs Cello

Pietro Mascagni
1:02:43 Cavalleria Rusticana: Intermezzo
Heard in: "Raging Bull"
Mr & Mrs Cello

Johann Sebastian Bach
1:05:59 Orchestral Suite No. 3 in D Major, BWV 1068: II. Air on the G String
Heard in: "Seven"
Metamorphose String Orchestra, Pavel Lyubomudrov

Anthony Newley, Leslie Bricusse
1:11:49 Pure Imagination
From "Willy Wonka and The Chocolate Factory"
Performed by: Sarah Joy

Joe Goodwin, Larry Shay, Mark Fisher
1:14:54 When You're Smiling
Performed by: Sarah Joy

Alan Menken
1:17:26 At Last I See the Light (from "Tangled")
Performed by: Sarah Joy

Benj Pasek, Justin Paul
1:20:38 Rewrite the Stars (from "The Greatest Showman")
Performed by: Sarah Joy

Michael Giacchino
1:24:19 Married Life (from "Up")
Performed by: Sarah Joy

Benj Pasek, Justin Hurwitz, Justin Paul
1:27:28 City of Stars (from "La La Land")
Performed by: Mr & Mrs Cello
Audition - The Fools Who Dream (from "La La Land")
Performed by: Sarah Joy

Louis Guglielmi, Édith Piaf
1:29:58 La Vie en Rose
heard in: "A Star Is Born"
Performed by: Sarah Joy

Andrw Wyatt, Anthony Rossomando, Mark Ronson, Stefani Germanotta
1:33:04 Shallow (from "A Star Is Born")
Performed by: Mr & Mrs Cello

Stefani Germanotta, Hillary Lindsey, Natalie Hemby, Lori McKenna, Dave Cobb
1:36:32 Always Remember Us This Way (from "A Star Is Born" - Arr. for Piano)
Performed by: Daniele Leoni

Diane Warren
1:39:36 I Don't Want to Miss a Thing (from "Armageddon" - Arr. for Piano)
Performed by: Daniele Leoni

Don Alan Schlitz Jr., Paul Overstreet
1:43:15 When You Say Nothing at All (from "Notting Hill" - Arr. for Piano)
Daniele Leoni

Alan Silvestri
1:46:33 Forrest Gump Suite (Arr. for Piano)
Performed by: Rogerio Tutti

John Barry
1:49:07 Somewhere in Time (Arr. for Piano)
Performed by: Rogerio Tutti

Rolf Løvland
1:51:49 Song from a Secret Garden (Arr. for Piano)
Performed by: Rogerio Tutti

Yann Tiersen
1:55:17 Comptine d'un autre été: L'après-midi
La Valse d'Amèlie
Performed by: Rogerio Tutti

#filmmusic #moviesoundtracks #soundtracks
#Kanal13 #likekanal13 #subscribekanal13 #warinukraine
https://www.youtube.com/user/kanal13az?sub_confirmation=1 - SUBSCRIBE TO US!

Andriy Yusov, a representative of the Defense Intelligence of Ukraine, in an interview with RBC-Ukraine, revealed that Russia is using terrorist attacks on Israel as a component of its war against Ukraine. In particular, mercenaries from the Wagner private military company were used for training Hamas militants and others.
"Such information exists not only regarding Wagnerites but also regarding other Russian private military companies. Wagnerites were used as communication channels, channels for information transfer, and for training to share the experience of the Russian-Ukrainian war. The use of drones against Israeli armored vehicles is a vivid confirmation of this," Yusov noted.
Moreover, according to his information, there is confirmed evidence of Russia providing specific samples of trophy weapons, primarily firearms, to Hamas militants to later accuse Ukraine of allegedly selling and supplying Western weaponry.
"But these trophy samples were transferred through various channels even before the Hamas attack on Israel. I think that conclusions can be drawn independently in this regard," stated the intelligence representative.
Yusov also pointed out that Russia actively uses terrorist attacks on Israel as a component of its war against Ukraine. Official contacts between Russia and Hamas are no secret; they happen publicly. Russian propaganda and official figures openly expressed satisfaction with the events in Israel. The information-psychological operations against Ukraine conducted by Russia in this context were described as utterly absurd and, at times, foolish. They failed and revealed that Moscow was aware of the upcoming attacks.

http://youtube.com/kanal13az/join - click here and support Kanal13 monthly for distributing more videos and independent journalism

http://t.me/kanal13tv & https://bit.ly/37BVMqU
https://www.youtube.com/user/kanal13az?sub_confirmation=1
https://bit.ly/2Rs6MB3
#lastminutenewsfromukraine #kanal13ukraine
https://bit.ly/2V19Fdy

Click here and just subscribe to Kanal13 - https://www.youtube.com/user/kanal13az?sub_confirmation=1

Kanalımıza bu linkə tıklamaqla dəstəyinizi göstərin: http://bit.ly/birmanat
https://www.youtube.com/KANAL13AZ/join
*ATTENTION: If you woul like to contact with US please, write to +49176 75077516 WhatsApp
*DIQQƏT: Kanal13-də vətəndaş şikayətləri ilə bağlı yayılan videolar kanalın mövqeyini əks etdirmir, kanal bu ittihamların məzmununa görə məsuliyyət daşımır və hər hansı video materialda adı çəkilən və ya özünü qarşı tərəf kimi görən bütün hüquqi və fiziki şəxslərin mövqeyini də dərc etməyə hazırıq. Əlaqə üçün: +49176 75077516 WhatsApp

**Diqqət! Diqqət! Sizdən hər hansı işlə bağlı Kanal13 adından pul istəyiblərsə təcili olaraq +49176 75077516 WhatsApp nömrəmizə yazaraq bildirin və polisə və prokurorluğa xəbər verin!!! Kanal13 olaraq Uca Millətimizə təmənnasız xidmət etməkdən qürur duyuruq!!!

© Kanal13 TV istehsal etdiyi bütün video və audio məhsulları azad yayım hüququ altında yayır (free copyright and reuse allowed) və hər bir digər yayımçı Kanal13 tərəfindən istehsal edilmiş məhsulu məzmunu dəyişdirmədən, loqonu silmədən, Kanal13-ə istinad etməklə təkrar yaya bilər. Bu halda şirkətimizdən xüsusi icazə alınmasına ehtiyac yoxdur: Amma bir qeydə XÜSUSİ DİQQƏT YETİRİN: Kanal13-də yayımlanmış materialların digər YouTUbe kanallarında təkrar yayımına ancaq 48 SAATDAN SONRA İCAZƏ VERİLİR.
Ümumiyyətlə isə, arzuediləndir ki, Kanal13-ə məxsus hər hansı video material youtube.com/kanal13az hesabına link verilməklə yayımlansın. Materialların qeyd edilən tələblər daxilində başqa youtube hesablarına, saytlara və ya sosial şəbəkələrə yüklənərək yayılması sərbəstdir. Qaydalar pozularsa şikayət edilə biləcəyinizi nəzərə alın!

Xüsusi qeyd: Şərh bölməsində yazılan təhqir və söyüşlər silincək. Kanal13 olaraq hörmətli izləyicilərimizdən xahiş edirik ki, tənqid yazmağı təhqir yazmaqla qarışdırmasınlar və heç kimi aşağılayıcı ifadələrlə təhqir etməsinlər.

▌▌►Website: http://kanal13.tv/
http://www.facebook.com/tvkanal13
https://twitter.com/Kanal13Az
https://www.instagram.com/kanal13.az

Click & Subscribe to the main youtube Channel

© KANAL13 [ Azərbaycanın ilk peşəkar internet televiziyası ] The First Internet TV of Azerbaijan

Tags: Ukriane, Russia, Putin, Putler, Russian invasion of Ukraine, Zelenski, Kiev, Kyiv, Kadirov army, Kadirov, Kherson, Bucha, Kharkiv, Ukrainian pilots, vagners, Russian tanks, NATO, drones, Moscow, Kreml, war victims Ukraina,
The Israel-Hamas conflict is set to take a dangerous turn with Russia's paramilitary, Wagner Group, announcing its interest in providing high-tech air defence support to Hezbollah, according to a new report.
A man mounts a
flag of Wagner group on top of an old tank exhibited at the Leninist Komsomol park in Donetsk, Russian-controlled Ukraine, on October 1, 2023, (Photo by STRINGER / AFP)(AFP)
Two US officials have confirmed to the Wall Street Journal that Wagner intends to send Iran-backed Hezbollah terror group the Russian SA-22 Greyhound system. This is a surface-to-air missiles and anti-aircraft artillery to intercept aircraft.
Hezbollah, is an Iran-backed terrorist group that's based in Lebanon. It has been exchanging fire with Israeli forces across the country's northern border while Israel wages a ground and air war against Hamas in the southern enclave of Gaza.
The Greyhound anti-aircraft system, or what Russia calls the Pantsir-S1, is expected to give Hezbollah advanced capabilities to repel Israeli aircraft, cruise missiles, and precision munitions.
WSJ quoted Pentagon spokesman, Brig. Gen. Pat Ryder, that the report was 'very concerning', if true.
It's still uncertain whether the anti-aircraft system has already been delivered. However, officials are monitoring talks between Wagner and Hezbollah, and considered the issue one of major concern.
Wagner Group had launched a failed mutiny against Russian leader Vladimir Putin in June. It is a state-financed private military company previously led by Yevgeny Prigozhin, who died later in a plane crash
What is Russian SA-22 Greyhound system
Comprising a missile launcher, radar truck, and command post, the SA-22 Greyhound is engineered to provide point air defence against both manned and unmanned aircraft, as well as certain types of missiles.
Its deployment has raised concerns in the context of regional conflicts, particularly along Israel's northern border, where tensions persist with groups like Hezbollah. This high-tech system has the potential to significantly impact the dynamics of modern warfare, enhancing the air defense capabilities of the groups or nations that possess it.
SHARE THIS ARTICLE ON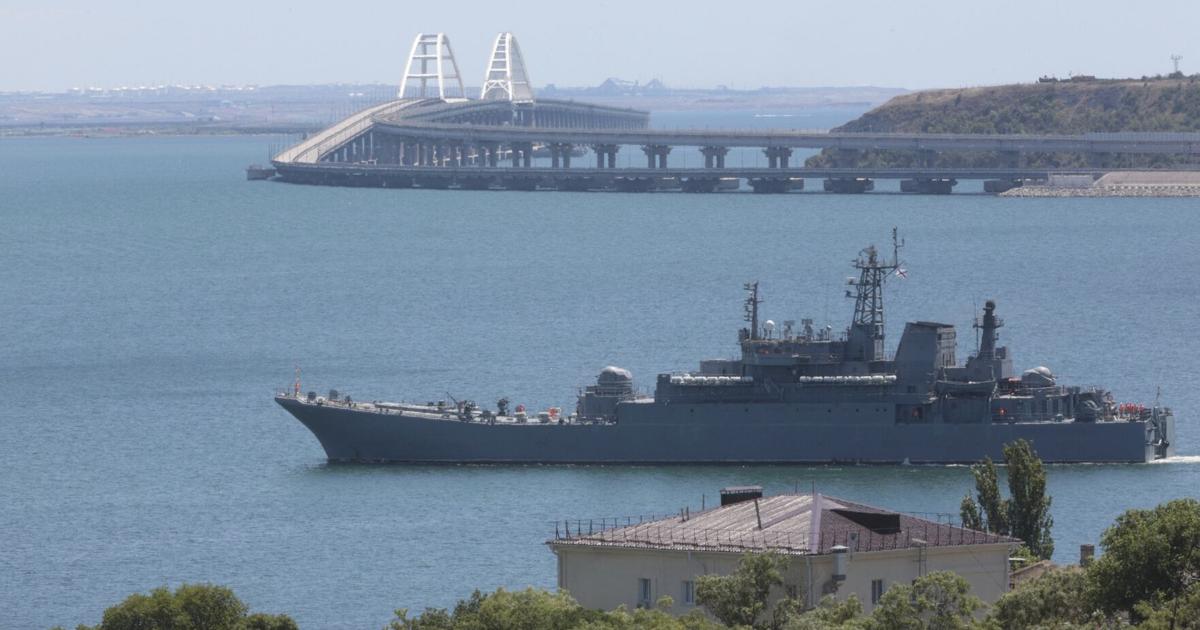 As Ukrainian cruise missiles and sea drones pound Crimea day after day, Russia quietly resorts to plan B: building a 250-mile railroad to supply food, fuel and ammunition to its troops entrenched in southern Ukraine.
Over the last decade, Russia turned Crimea into a massive aircraft carrier in the Black Sea. Two years ago, Russia used the peninsula as a springboard for its invasion of southern Ukraine.
In advance, President Vladimir Putin built the longest bridge in Europe, linking Crimea with Russia's mainland. Tying his personal prestige to the project, Putin inaugurated the road and rail bridge by driving a truck across the four-lane, $4 billion Kerch Strait Bridge. However, over the last year, Ukrainian missiles and drones severely damaged the bridge, forcing Russia to move food and fuel across the strait by ferry. Attempts to camouflage the bridge and warships with white smoke are not working.
"Although fully operational, use of the bridge remains restricted due to procedures enacted following the first Ukrainian attack in October 2022," British defense officials said last month. "Trucks and fuel supplies continue to be moved by ferry." Defending the bridge is "almost certainly a significant burden ... Russian security forces' confidence in their ability to protect this large and vulnerable structure will continue to be threatened by the ingenuity of Ukraine's military and security services."
Last week, at the Crimean end of the bridge, a French-supplied cruise missile severely damaged a state-of-the-art Russian missile carrier ship, the Askold. Then, on Friday, Ukrainian sea drones sank two Russian landing craft docked in western Crimea, facing Odesa. In a campaign that rewrites naval warfare tactics, Ukraine, a nation without a navy, has sunk or severely damaged at least 20 vessels of Russia's Black Sea fleet.
With Crimea crippled, Russia now falls back on a 19th-century military technology favored by the czars: railroads. Last summer, the Kremlin created a new state company: Novorossiya Railways. This "New Russia" railroad will serve the four regions of Ukraine claimed by Moscow: Donetsk, Kherson, Luhansk and Zaporizhzhia.
"Driving across the Crimean bridge not only is far, but today the bridge is an object of increased danger," Russia-appointed head of Zaporizhzhia Evgeniy Balitsky told reporters in Melitopol, capital of Russia's section of the region that constitutes about two-thirds of its land area.
Once a major rail junction, Melitopol would be the western terminus of a new rail line that would start in Rostov-on-Don, southern Russia's military base of operations for the invasion of Ukraine. Hugging the northern shore of the Sea of Azov, the new rail line is to duplicate an existing line, one now deemed too close to Ukrainian front lines.
"The new line will be a safe distance away from the front line of the conflict, meaning that Ukrainian shelling should not pose a threat to trains," Mr. Balitsky said, according to Moscow's Russia Briefing news site. "Work has already started."
In recent weeks, Ukraine received from America Army Tactical Missile System, or ATACMS. With these rockets, Ukraine can hit any target in Russia-occupied Ukraine, including all of Crimea. However, it is easier to fix a rail line than a bridge.
In a second step away from the Kerch Bridge, long the icon of Putin's conquest of Crimea, a highway would be built south from Melitopol into Crimea. This is due to "a drastic reduction in dependence on railway communication via the Crimean Bridge," exiled Melitopol city official Petro Andriushchenko said on his Telegram channel.
Once a Kremlin "red line" for Ukrainian military action, Crimea has been hit so hard that it increasingly is defenseless. Ukrainian drone and missile attacks have taken out most of the Russian surface-to-air missile, or SAM, systems in Western Crimea, the land that juts into the Black Sea, 100 miles south of Odesa. With drones and missiles hitting military targets almost daily, Russia has moved its most modern warships 250 miles to the east, to Novorossisk, a port on Russia's mainland.
With much of the pressure off the Western Black Sea, Ukraine has opened a shore-hugging shipping corridor to get its grains and metals to the outside world. Russia reacted by sowing sea mines and firing a missile at a Liberian bulk metal carrier, killing the Ukrainian harbor pilot who was guiding the ship into Odesa. However, the "humanitarian corridor" remains open. Over the last 10 weeks, 100 ships have made the passage, carrying 3.3 million tons of cargo.
"The Russian Fleet is no longer able to operate in the western part of the Black Sea, and is gradually fleeing from Crimea — and this is a historic achievement," Ukrainian President Volodymyr Zelenskyy told the Crimean Platform security conference in Prague last month. "We have not yet gained full fire control over Crimea and surrounding waters, but we will. This is a question of time."
As for the now crippled road and rail bridge, Ukraine's military intelligence chief Kyrylo Budanov predicted in an interview last month with Ukrainska Pravda: "The Crimean bridge is a symbol that will be destroyed. When Crimea returns [to Ukraine], this bridge will cease to exist."
Lenox native James Brooke has traveled to about 100 countries reporting for The New York Times, Bloomberg and Voice of America. He reported from Russia for eight years and from Ukraine for six years.