Senator Menendez case from the Counterintelligence perspectives - My #Opinion: The #retards have a #classic #TunnelVision. That is why the #US #Counterintelligence is in a such deep hole. Two former #FBI #robots, and now the #UsefulIdiots discuss the "#EgyptThreat" in all seriousness: they are #unable to see it as a #cover and a #setup. The only good thing is that they are "former", not present agents: probably, they were not that good in that capacity, anyway.
I do not know if Mr. Menendez is s guilty of the offenses that he was indicted for, let the legal process determine it.
I am interested in studying the Counterintelligence aspects only. The article from the "Just Security" confirmed my initial impressions that this affair is the setup by the primarily Israeli Intelligence Services (most likely, in conjunction with Russia and Turkey, and paid for by Azerbaijan) directed against Senator Menendez and against the Intelligence Services of Egypt (Abbas Kamel is mentioned specifically), and in the interests of the current ruling group of Israel, namely Netanyahu and Ben-Gvir, and their partners: Putin, Erdogan, and Aliyev.
Michael Novakhov |
10:33 AM 9/30/2023
-
Senator Menendez case from the Counterintelligence perspectives - GS - https://t.co/OaeEznPbXZ
-
The South Caucasus News - https://t.co/hcflWVkVzu #NT #News #Times | #SouthCaucasus | #SouthCaucasusNews | Armenia - #Armenia, Azerbaijan - #Azerbaijan, Georgia - #Georgia |… pic.twitter.com/RLkTXaUf3f

— Michael Novakhov (@mikenov) September 30, 2023
-
#FBI: #Menendez #indictment looks bad, but there are #defenses he can make - https://t.co/cKqR7oyGoQ
My #Opinion: FBI: #Investigate the Counterintelligence #Counterintelligence aspects, carefully and #InDepth: #CuiBono? #Answer: #Israel, @Turkey, #Azerbaijan (+#Russia, as… pic.twitter.com/UOPuY25wh4

— Michael Novakhov (@mikenov) September 30, 2023
-
My #Opinion:
The #retards have a #classic #TunnelVision. That is why the #US #Counterintelligence is in a such deep hole.
Two former #FBI #robots, and now the #UsefulIdiots discuss the "#EgyptThreat" in all seriousness: they are #unable to see it as a #cover and a #setup.
See… pic.twitter.com/wmRy366xmZ

— Michael Novakhov (@mikenov) September 30, 2023
-
-
The Ongoing National Security Threats Posed by Senator Bob Menendez

By former FBI @AshaRangappa_ and former CIA @Mpolymer#CounterIntelligence #espionagehttps://t.co/lVi9P8Apsd

— Just Security (@just_security) September 28, 2023
-
FBI - #FBI: See this and my comments:https://t.co/SIgq3iQCQThttps://t.co/fkarkJW2Py

— Michael Novakhov (@mikenov) September 30, 2023
-
Michael Novakhov's favorite articles on Inoreader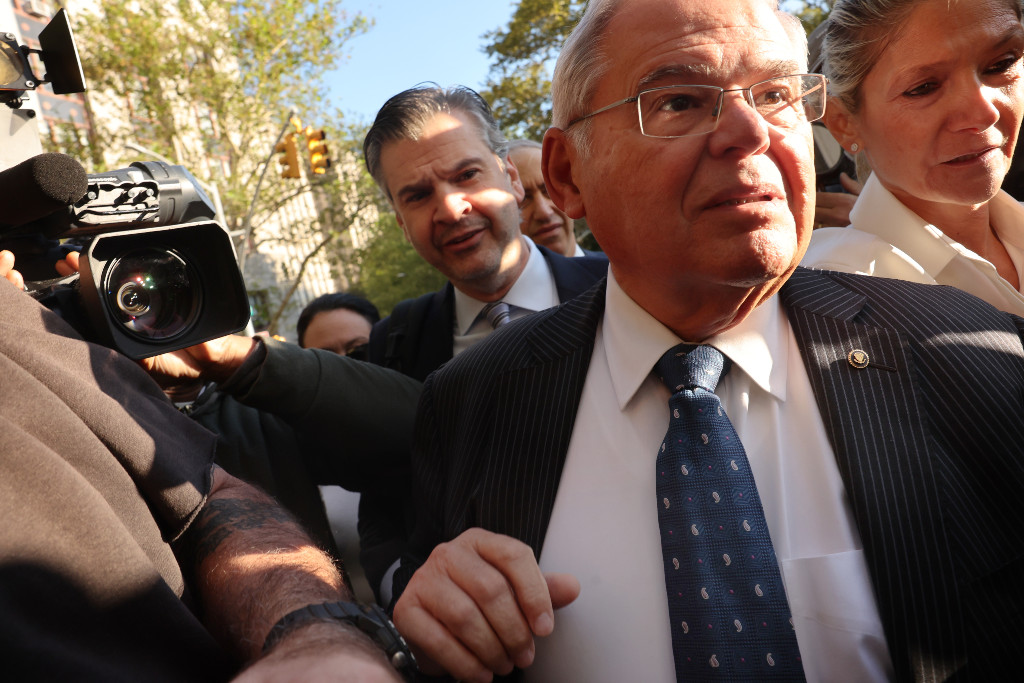 The recent indictment of U.S. Senator Bob Menendez (D-NJ) reads like the script of a B crime movie: A politician, three New Jersey businessmen, a shady trucking business, and envelopes and a safe deposit box stuffed with cash and gold bars. But the most important thru-line in the narrative isn't the criminal charges. Rather, it is the national security threat raised by the espionage and counterintelligence concerns which run throughout the 39-page document.
In sum, the government of Egypt–with whom the United States has an ostensible "critical defense partnership"–appears to have recruited the powerful Chairman of the Senate Foreign Relations Committee.
The indictment explicitly lists five ways Menendez has already compromised U.S. national security, and implicitly reveals one ongoing threat Menendez poses as long as he continues to hold his current position.
1. Disclosing the United States' Staffing Blueprint in its Egyptian Embassy
According to the indictment, on May 6, 2018, Menendez requested that the State Department provide him with non-public information regarding the number of people serving at the U.S. Embassy in Cairo, and their nationality. Upon receiving this information, Menendez texted that information to his then-girlfriend (now wife), Nadine Menendez, who forwarded it to an Egyptian businessman Wael Hana, who in turn forwarded it to Egyptian officials.Notably, the senator requested this information from the State Department after having met with Nadine Menendez and Hana earlier that day.
Such tasking by the Egyptians would be consistent with classic modus operandi in a recruitment operation. One requests a seemingly innocuous document, that once is provided, gets their hooks into an agent-candidate. Indeed, the chronology that follows in the indictment indicates the senator had become compromised and increasing demands were then placed on him by the Egyptian officials and intermediaries.
Although the precise staffing numbers of a foreign embassy are not classified, they are considered sensitive because they can potentially be used to determine a foreign intelligence presence in that country. Foreign embassies are a primary focus for a domestic counterintelligence service. In addition, understanding the number of locals employed at the embassy offers opportunities for a domestic counterintelligence service to recruit those individuals to be their "eyes and ears" inside the embassy – even just to spot and assess potential targets who may be vulnerable.
2. Providing Advance Information on U.S. Military Aid
Because Menendez serves as the Chairman of the Senate Foreign Relations Committee, he had the ability to place "holds" on pending military financing and sales, or to release those holds. That said, the direct negotiation of such financing and sales is an executive branch function, conducted by the State Department as the lead agency. The State Department reviews and approves this type of aid, based on certifications that a receiving country has met particular criteria – in the case of Egypt, this involved demonstrating commitments to human rights and democracy. Prior to the events described in the indictment, the United States had withheld or cancelled aid to Egypt due to concerns and objections regarding Egypt's performance on this front.
In May 2018, Menendez provided – again using Nadine as an intermediary – non-public information to Egyptian officials regarding the release of military aid to Egypt. Menendez also personally met with Egyptian government and military officials in July 2018 in which he received briefing materials regarding Egypt's foreign policy goals, and subsequently communicated that he would be approving their requests (lifting the holds) via his then-girlfriend. In so doing, Menendez apparently surreptitiously undermined the State Department's leverage and negotiating power with the Egyptian government to the material benefit of Egypt. This was especially duplicitous since a few months earlier, Menendez raised the issue of human rights and democracy in Egypt in a bipartisan letter with senate colleagues to the State Department (which his office publicly released). Meanwhile, his secret backdoor assurances told Cairo they would be getting the military sales they wanted.
3. Ghostwriting a Letter Requesting U.S. Military Aid from the Government of Egypt
Also in May 2018, Nadine conveyed to Menendez a request from Egyptian government officials seeking his help in drafting a letter to lobby other senators to support providing Egypt with military aid. Menendez acquiesced, secretly writing a letter purporting to be from the Government of Egypt. In so doing, Menendez used his knowledge of his colleagues' beliefs and concerns – ones that they no doubt would have shared or communicated with him on the understanding that they would not be shared with or used to directly benefit a foreign government – let alone to allow Egypt to present its case in a way that specifically addressed those concerns. In short, Menendez apparently used his insider knowledge to dupe his own colleagues (and by extension, the U.S. government) into believing that Egypt had, independently, considered the issues relevant to the U.S. Senate in determining whether to release military aid.
(This episode has echoes of Paul Manafort, who in 2017 was caught by prosecutors ghost-writing an op-ed with an individual tied to Russian intelligence, Konstantin Klimnik.).
More broadly, these are additional signs of a successful foreign intelligence service's covert influence operation.
4. Providing a Heads-Up on Questions U.S. Senators Intended to Ask of Egyptian Officials
In June 2021, Nadine arranged a meeting between Menendez and a senior Egyptian intelligence official in a hotel. Menendez provided the intelligence official with a copy of a news article reporting on questions that his colleagues in the Senate would be asking the official at a meeting the next day, about a human rights issue. A Twitter thread by reporter Amy Hawethorne links the date of the meeting with a visit by Egyptian intelligence chief Abbas Kamel, who was visiting the United States and scheduled to meet with U.S senators to answer questions regarding the murder of journalist Jamal Khashoggi. Specifically, reporting at that time indicated that senators intended to question the intelligence chief regarding reports that the Saudi plane carrying Khashoggi's assassins stopped in Cairo to pick up drugs used in his murder.
Although the report of the forthcoming line of questioning was in the U.S. media, Egypt may not have been aware of it or trusted its reliability. In proactively providing the news article to the intelligence official prior to their private meeting, Menendez would have assisted Egypt in preparing for such questions. If, indeed, the official in question was Egypt's chief and the questioning was regarding the Khashoggi murder, Menendez's advance warning would have been helping Egypt come up with a potential alternate or cover story regarding the Cairo stopover, undermining his colleagues' fact-finding efforts on behalf of the United States. In fact, the indictment quotes Nadine followed up with another Egyptian official, stating, "I just thought it would be better to know ahead of time what is being talked about and this way you can prepare your rebuttals." What is particularly notable is that Menendez has championed himself a defender of democracy and human rights and had previously spoken about the need for Saudi Arabia's leadership to suffer consequences for Khashoggi's murder; yet, in this case, he apparently protected the Egyptians for any role they may have played in the murder of the US resident and journalist.
5. The Ongoing National Security Threat Posed by Menendez in His Current Role
It is possible that the events laid out in the indictment represent the full breadth of interactions between Menendez and the Egyptian government. However, there is the distinct possibility that it is not, and that Egypt is in possession of other communications or actions taken by Menendez that the FBI has not yet uncovered or that has not been made public. The indictment notes that many of the meetings Menendez undertook with Egyptian officials took place without either his staff or other committee members being present. As a result, it is impossible to know how much leverage Egypt continues to have over Menendez, especially given that he is under criminal indictment and their release of any such information could worsen Menendez's liability and his ability to raise funds for his defense. Under all these circumstances, Menendez is not suitable to continue to hold a position of public trust, given the number and nature of issues handled by the Senate Foreign Relations Committee and the Senate itself related to Egypt's direct and indirect interests.
6. The Aftermath
Ordinarily in such spy scandals, there are repercussions when one side is caught, even amongst strategic partners. As such, do we expect that the Biden administration will sanction Egypt for running such an espionage operation against a powerful member of Congress? For example will the United States declare persona non-grata (PNG) any officials from the Egyptian embassy in Washington? Such PNGs can be done quietly, but failure to do anything here will be seen as sign of weakness. Finally, given Menendez's historic antipathy for weapons sales to Turkey, as well as his hawkish stance on Iran, will there be any other foreign policy effects of this scandal? We will be watching this space.
IMAGE: Senator Bob Menendez and his wife Nadine Menendez arrive at a Manhattan court after they were indicted on bribery charges on September 27, 2023 in New York City. (Photo by Spencer Platt/Getty Images)
The post The Ongoing National Security Threats Posed by Senator Bob Menendez appeared first on Just Security.
Reactions came quickly to the federal indictment on Sept. 22, 2023, of New Jersey's senior U.S. senator, Democrat Bob Menendez. New Jersey Gov. Phil Murphy joined other state Democrats in urging Menendez to resign, saying, "The alleged facts are so serious that they compromise the ability of Senator Menendez to effectively represent the people of our state."
The indictment charged Menendez, "his wife NADINE MENENDEZ, a/k/a 'Nadine Arslanian,' and three New Jersey businessmen, WAEL HANA, a/k/a 'Will Hana,' JOSE URIBE, and FRED DAIBES, with participating in a years-long bribery scheme … in exchange for MENENDEZ's agreement to use his official position to protect and enrich them and to benefit the Government of Egypt." Menendez said he believed the case would be "successfully resolved once all of the facts are presented," but he stepped down temporarily as chairman of the Senate's influential Committee on Foreign Relations.
The Conversation's senior politics and democracy editor, Naomi Schalit, interviewed longtime Washington lawyer and Penn State Dickinson Law professor Stanley M. Brand, who has served as general counsel for the House of Representatives and is a prominent white-collar defense attorney, and asked him to explain the indictment – and the outlook for Menendez both legally and politically.
What did you think when you first read this indictment?
As an old pal once told me, "even a thin pancake has two sides."
Reading the criminal indictment in a case for the first time often produces a startled reaction to the government's case. But as my over 40 years of experience defending public corruption cases and teaching criminal law have taught me, there are usually issues presented by an indictment that can be challenged by the defense.
In addition, as judges routinely instruct juries in these cases, the indictment is not evidence and the jury may not rely on it to draw any conclusions.
Prosecutors say these are some of the gold bars a New Jersey businessman used to bribe Sen. Bob Menendez and his wife. (Courtesy of the U.S. attorney for the Southern District of New York)
The average reader will look at the indictment and say, "These guys are toast." But are there ways Menendez can defend himself?
There are a number of complex issues presented by these charges that could be argued by the defense in court.
First, while the indictment charges a conspiracy to commit bribery, it does not charge the substantive crime of bribery itself. This may suggest that the government lacks what it believes is direct evidence of a quid pro quo – "this for that" – between Menendez and the alleged bribers.
There is evidence of conversations and texts that coyly and perhaps purposely avoid explicit acknowledgment of a corrupt agreement – for instance, "On or about January 24, 2022, DAIBES's Driver exchanged two brief calls with NADINE MENENDEZ. NADINE MENENDEZ then texted DAIBES, writing, 'Thank you. Christmas in January.'"
The government will argue that this reflects acknowledgment of a connection between official action and delivery of cash to Sen. Menendez, even though it is a less-than-express statement of the connection.
Speaking in this kind of code may not fully absolve the defendants, but the government must prove the defendants' intent to carry out a corrupt agreement beyond a reasonable doubt – and juries sometimes want to see more than innuendo before convicting.
The government has also charged a crime called "honest services fraud" – essentially, a crime involving a public official putting their own financial interest above the public interest in their otherwise honest and faithful performance of their duties.
The alleged failure of Menendez to list the gifts, as required, on his Senate financial disclosure forms will be cited by prosecutors as evidence of "consciousness of guilt" – an attempt to conceal the transactions.
However, under a recent Supreme Court case involving former Gov. Bob McDonnell of Virginia for similar crimes, the definition of "official acts" under the bribery statute has been narrowly defined to mean only formal decisions or proceedings. That definition does not include less-formal actions like those performed by Menendez, such as meetings with Egyptian military officials.
The Supreme Court rejected an interpretation of official acts that included arranging meetings with state officials and hosting events at the governor's mansion, or promoting a private businessman's products at such events.
When it comes time for the judge to instruct the jury at the end of the trial, Menendez may well be able to argue that much of what he did in fact did not constitute "official acts" and therefore are not illegal under the bribery statute.
Cash federal investigators say they found in Sen. Bob Menendez's home. (Courtesy of the U.S. attorney for the Southern District of New York)
This case involves alleged favors done for a foreign country in exchange for money. Does that change this case from simple bribery to something more serious?
The issue of foreign military sales to Egypt may also present a constitutional obstacle to the government.
The indictment specifically cites Menendez's role as chairman of the Senate Foreign Relations Committee and actions he took in that role in releasing holds on certain military sales to Egypt and letters to his colleagues on that issue. The Constitution's speech or debate clause protects members from liability or questioning when undertaking actions within the "legitimate legislative sphere" – which undoubtedly includes these functions.
While this will not likely be a defense to all the allegations, it could require paring the allegations related to this conduct. That would whittle away at a pillar of the government's attempt to show Menendez had committed abuse of office.
In fact, when the government has charged members of Congress with various forms of corruption, courts have rejected any reference to their membership on congressional committees as evidence against them.
How likely is Menendez's ouster from the Senate?
Generally, neither the House nor Senate will move to expel an indicted member before conviction.
There have been rare exceptions, such as when Sen. Harrison "Pete" Williams was indicted in the FBI Abscam sting operation from the late 1970s and early 1980s against members of Congress. Williams resigned in 1982 shortly before an expected expulsion vote. With current Democratic control of the Senate by a margin of just one seat, Menendez's ouster seems unlikely even though the Democratic governor of New Jersey would assuredly appoint a Democrat to fill the vacancy.
'In the history of the United States Congress, it is doubtful there has ever been a corruption allegation of this depth and seriousness,' former New Jersey Sen. Robert Torricelli said. True?
That seems hyperbolic. The Menendez case is just the latest in a long line of corruption cases involving members of Congress.
In the Abscam case, seven members of the House and one Senator were all convicted in a bribery scheme. That scheme involved undercover FBI agents dressed up as wealthy Arabs offering cash to Congress members in return for a variety of political favors.
In the Korean Influence Investigation in 1978 – when I served as House counsel – the House and Department of Justice conducted an extensive investigation of influence peddling by Tongsun Park, a South Korean national, in which questionnaires were sent to every member of the House relating to acceptance of gifts from Park.
Going all the way back to 1872, there was the Credit Mobilier scandal that involved prominent members of the House and Vice President Schuyler Colfax in a scheme to reward these government officials with shares in the transcontinental railroad company in exchange for their support of funding for the project.
This article is republished from The Conversation under a Creative Commons license. Read the original article.
It happened quickly, the final invasion, and with hundreds of Orthodox Christians killed by the aggressors. Armenia, led by a one-time human rights lawyer, had no alternative but to save thousands of its people from death by surrendering their enclave at Nagorno-Karabakh to the brutal forces of Ilham Aliyev, dictator of Azerbaijan.