6:32 AM 1/18/2023 - Gerasimov vs. Monastyrskiy: the Russians target top Ukrainian leadership. Is this the new tactic and the new phase of the WAR? Killing of Monastyrskiy: Gerasimov's revenge: he proves his mettle by going directly after top Ukraine leadership. Ukraine's interior minister killed in helicopter crash Denys Monastyrskiy. | Top US general visits training site for Ukrainian soldiers.
Updated Jan 18, 2023, 04:51am EST
Ukrainian Interior Minister Denys Monastyrskiy, his deputy and at least three children were among 18 people who were killed on Wednesday after a helicopter carrying the minister crashed into a kindergarten near Kyiv—it's the latest tragedy to strike Ukraine just days after a Russian attack on an apartment in Dnipro left at least 40 people dead.
Ukrainian Interior Minister Denys Monastyrskyi is among the 18 people who were killed by the ... [+] helicopter crash on the outskirts of Kyiv.
Copyright 2022 The Associated Press. All rights reserved.
In a statement on Telegram, Ukraine's parliament said cabinet member Monastyrsky, his deputy minister Yevhen Yenin and state secretary Yurii Lubkovich were among the dead.
Nine people were onboard the helicopter when it crashed in the town of Brovary, located on the outskirts of Kyiv, the region's governor Oleksiy Kuleba announced on Telegram.
At least 29 people were injured in the crash, including 15 children, and rescue operations at the site are still ongoing, Kuleba added.
A cause for the helicopter crash has not yet been established.
This is a developing story.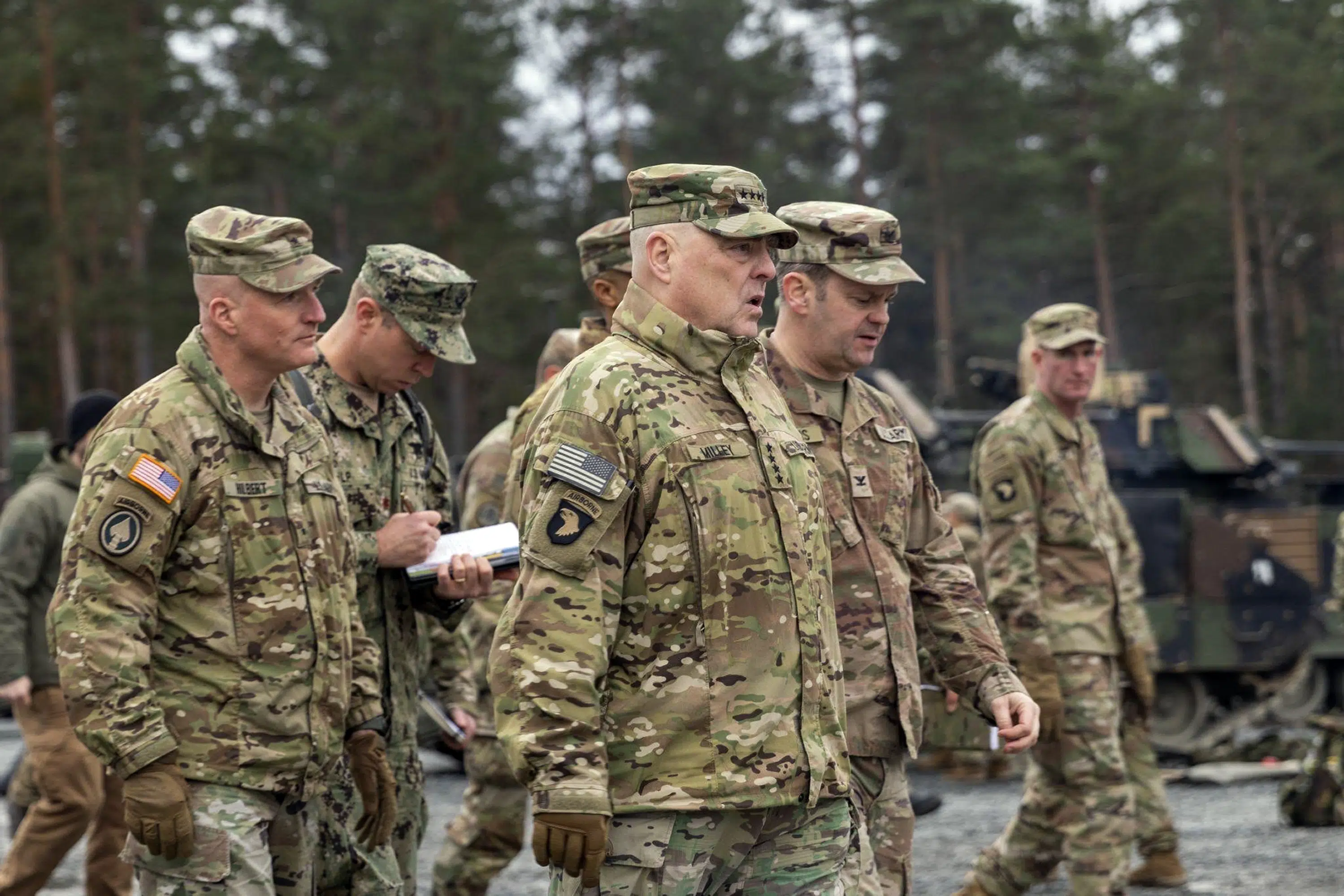 GRAFENWOEHR TRAINING AREA, Germany (AP) — Monday was just Day Two for Ukrainian soldiers at the U.S. military's new training program, but the message was coming through loud and clear.
These are urgent times. And the lessons they will get in the next five weeks on weapons, armored vehicles and more sophisticated combat techniques are critical as they prepare to defend their country against the Russian invasion.
"This is not a run of the mill rotation," U.S. Army Gen. Mark Milley, chairman of the Joint Chiefs of Staff, said Monday afternoon as he met with commanders. "This is one of those moments in time where if you want to make a difference, this is it."
Milley, who visited the sprawling Grafenwoehr training area to get his first look at the new, so-called combined arms instruction, has said it will better prepare Ukrainian troops to launch an offensive or counter any surge in Russian attacks.
He spent a bit less than two hours at "Camp Kherson" — a section of the base named after a city in Ukraine where Ukrainian troops scored a key victory against Russia last year. More than 600 Ukrainian troops began the expanded training program at the camp just a day before Milley arrived.
For the first time since the war began nearly a year ago, reporters were given broad access to watch various portions of the training. The reporters were allowed to follow Milley and watch his interactions with Ukrainian and U.S. troops and commanders, but were not allowed to report specific conversations with the Ukraine forces or take any photos or video. The restrictions reflect ongoing U.S. concerns about escalating Russian anger over the West's involvement in the war or triggering a wider conflict.
The U.S. has conducted training at Grafenwoehr for years, including for allied forces in Europe. But limited instruction for Ukrainian forces began last year, shortly after the Russian invasion. At the time it was focused specifically on various weapons systems that were being supplied by the U.S., such as the howitzer.
Last month, the Pentagon announced it would expand the training in an effort to hone the skills of the Ukrainian forces. The five-week course will teach them to effectively move and coordinate their company- and battalion-size units in battle, using combined artillery, armor and ground forces.
It will include classroom instruction and field work that will begin with small squads and gradually grow to involve larger units. It will culminate with a more complex combat exercise bringing an entire battalion and a headquarters unit together.
The training at Grafenwoehr is being done by the 7th Army Training Command.
Speaking to two reporters traveling with him to Europe on Sunday, Milley said the complex training — combined with an array of new weapons, artillery, tanks and other vehicles heading to Ukraine — will be key to helping the country's forces take back territory that has been captured by Russia in the nearly 11-month-old war.
On Monday, as he walked through the training area, Milley bantered with troops, asking them about their combat experience and talking to them about their mission.
"The urgency was clear," said Army Col. Dave Butler, Milley's spokesman. "These soldiers are going off to defend their country in combat."
Milley said Sunday that the goal is for incoming weapons and equipment to be delivered to Ukraine so the newly trained forces will be able to use it "sometime before the spring rains show up. That would be ideal."
The new instruction comes as Western analysts point to signs that the Kremlin is digging in for a drawn-out war, and say the Russian military command is preparing for an expanded mobilization effort.
Across the battlefield, Ukrainian forces face fierce fighting in the eastern Donetsk province, where the Russian military has claimed it has control of the small salt-mining town of Soledar. Ukraine asserts that its troops are still fighting, but if Moscow's troops take control of Soledar it would allow them to inch closer to the bigger city of Bakhmut, where fighting has raged for months.
Russia also launched a widespread barrage of missile strikes over the weekend, including in Kyiv, the northeastern city of Kharkiv and the southeastern city of Dnipro, where the death toll in one apartment building rose to 40.
Selected Articles - Michael Novakhov's favorite articles on Inoreader - The News And Times